Best fidgets ever
The 30 Best Fidget Toys
Humans fidget when they are bored or anxious. It's in our nature to try to relax by performing small repetitive movements when we are stuck doing something we don't really want to be doing. Though there is no scientific consensus on the effectiveness of fidgeting, some limited studies, as well as anecdotal evidence, show that fidgeting may help relieve stress, improve memory, improve fine motor control, and help kids focus at school. For those with attention-deficit/hyperactivity disorder (ADHD), fidgeting can help improve focus by relieving some of the body's excess energy, and those with autism often find the repetitive nature of fidgeting to be soothing. Fidgeting can also help people with sensory processing disorders, as it allows them to find relief through satisfying sensory input, a behavior called "stimming."
For those with attention-deficit/hyperactivity disorder (ADHD), fidgeting can help improve focus by relieving some of the body's excess energy.
I first learned about stimming when my four-year-old, who, shortly after being diagnosed with ADHD, began sucking on his fingers when he was anxious. To stop him from shoving his germ-covered hands in his mouth all day at preschool, we quickly got him to start using sensory chewing necklaces instead. I can't say I'm surprised that he has a need for oral stimulation—I also have ADHD. While I was undiagnosed as a kid, I practiced similar behaviors; I sucked on my hair until my mom chopped it off, and then I moved on to sucking on my shirt collars and chewing on pen tips.
As my son's occupational therapist is quick to point out, the thing about fidget toys is that because everyone finds different sensations satisfying, there's no one product that relaxes everyone. Unfortunately, this means that you may need to experiment to find products you or your kids enjoy. While some people get satisfaction from feeling and hearing things pop or click, others prefer smooth motions that create no sounds.
As my son's occupational therapist is quick to point out, the thing about fidget toys is that because everyone finds different sensations satisfying, there's no one product that relaxes everyone.
This list has a wide variety of fidget toys to satisfy all different types of sensory input preferences. There are brightly colored items and products that look subtle and sophisticated. Some products make loud sounds, while others are pretty much silent. There are products that are smooth, bumpy, furry, soft, squishy, and hard. While the majority of products are for fidgeting with the hands, there are also a few options for those who fidget with their feet. 
DISCOVER MORE TOYS:
19 Water Toys and Games That'll Make Summer Even More Fun
The Surprisingly Long History of Hula Hoops
Best Nature and Science Toys for Kids of All Ages
Jump to section: Fidget Toys for Everyone | For Kids | For Adults | Jewelry Fidget Toys | Seated Toys
---
Fidget Toys for Everyone
Speks Blots Stress Balls
These fun silicone stress balls come in a variety of futuristic shapes that are sure to appeal to kids and adults alike.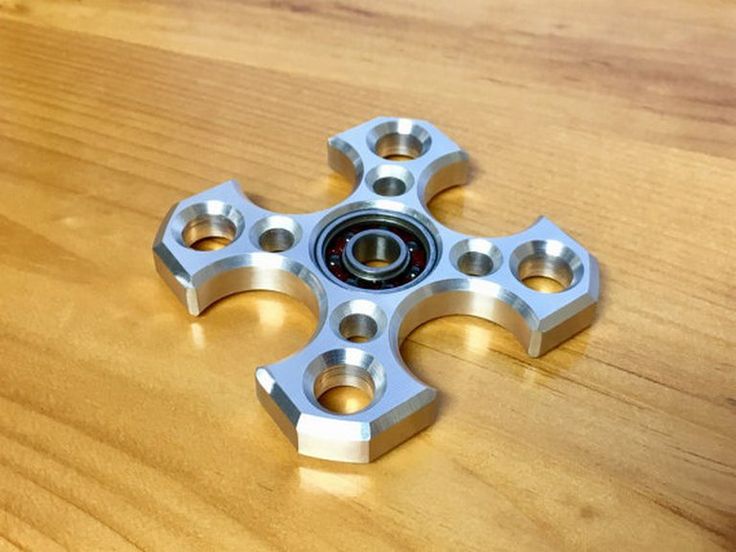 They fit in the palm of your hand and have bendy limbs that snap back in place after you're done pushing them. 
Buy Now
Art Ball Fidget Toy
This soothing collection of spheres can be manipulated into different shapes and patterns. They can even be popped off and rearranged. Thanks to flexible joints, the toy can be kneaded at random or built into shapes. This sensory tool comes in natural wood, pastel, or bright rainbow. 
Buy Now
Dodecagon
If your hands tire of fidgeting activities quickly, the Dodecagon is for you. The 12 sides are equipped with 11 different fidgeting options, including stress balls, gears, switches, a joystick, a massage area, buttons, sliders, dimples, and more, with both silent and noisy fidgeting options. The Dodecagon comes in seven different color combinations and features a carrying hook, making it very portable. On the downside, this fidget toy has so much going on that it could end up keeping your mind occupied rather than helping you calm down and focus.
Buy Now
Glow-in-the-Dark Nee-Doh
There are plenty of squeeze balls on the market, but Nee-Dohs are something special. Their unique filling offers the perfect level of resistance, making them a therapeutic option you'll want to squeeze and knead for hours. This particular one glows in the dark, which gives it a fun other-wordly vibe.
Buy Now
Mini Controller
Any gamer who doesn't know what to do with their hands while they're away from their console should snatch up one of these toys. Aside from four tiny consolelike buttons and a joystick, it also features a spinning finger massager, rolling wheels, a flip switch, a spinning button, and more. The whole thing is attached to a lanyard keychain for easy travel. The majority of the parts are fairly quiet, so it can be used in public. 
Buy Now
Crazy Aaron's Thinking Putty
There are thousands of putty toys on the market, but we're partial to Crazy Aaron's Thinking Putty. It comes in a plethora of colors, from iridescent purple to liquid glass.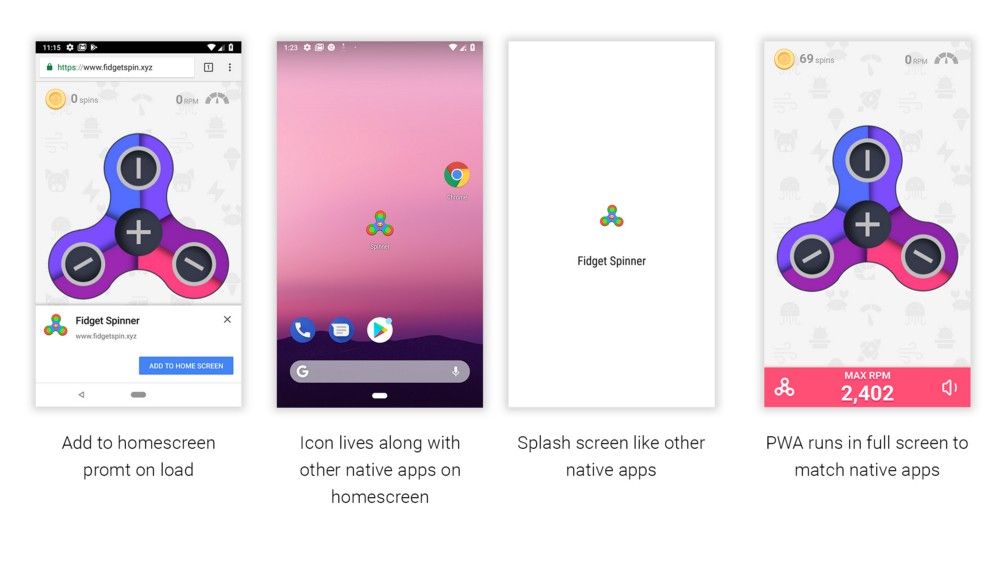 This Falling Water putty looks like water and is sure to remind you of relaxing waterfalls and lazy rivers.
Buy Now
Bike Chain Fidget
A great alternative to the traditional fidget spinner, this unique option made its TV debut on Shark Tank in 2017 at the height of the fidget spinner craze. It features two rings connected with bike chains that can be discreetly rolled and folded even inside your pocket. Many enjoy using it for anxiety relief. 
Buy Now
Hukes Squishy Hoodie Charm
These foam charms are shaped like animal faces and can be worn on hoodie strings. They're ultra-squishy and conveniently placed near your heart, making them easy to grab when needed. This silent fidget toy is great for teens who need extra comfort while in class. It also adds an extra bit of flair to their outfit and comes in five shapes. 
Buy Now
Infinity Cube
Made from many small cubes hinged together, the infinity cube can be a cube or it can be folded into dozens of other shapes.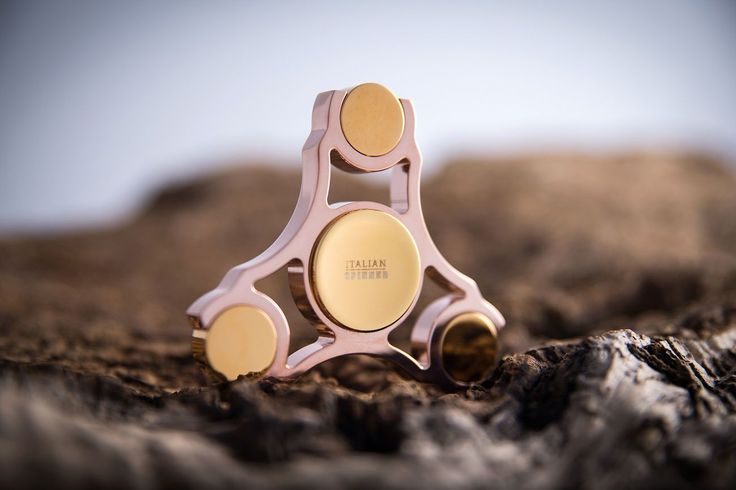 When you're done, fold it flat and store it in the convenient carrying case. While there are many different infinity cubes, this one makes a satisfying click sound whenever you bend it.
Buy Now
Fidget Cube
This desk toy has a soft rubbery texture and multiple fidgeting options, including click buttons, roll gears, flip switches, a joystick, a spinning circle, and a smooth area for rubbing. It's sure to keep your hands entertained, whatever mood you're in. A few of the buttons are silent, and the rest emit sound, making this a great all-purpose fidget toy.
Buy Now
Articulated Slug Fidget Toy
Slugs are not always on the top of people's lists when they think of relaxation, but there is something very soothing about this toy. The many-jointed slug can slither like a snake, making it a mesmerizing toy for all ages. It has 19 joints and makes gentle clanking noises as it moves.
Buy Now
Fidgets for Kids
Octopus Pop Fidget Spinner
Each of this octopus's five arms (yes, only five) features a popper button that provides a nice pop.
When you spin the arms, its face lands on one of three different facial expressions. While most of the sensory toys we have at home are for my son, I bought one of these for myself because I found the combination of fidget spinner and popper so enjoyable.
Buy Now
Squigz
A favorite at our occupational therapist's office, Squigz are a building toy and fidget toy in one. They have strong suction cups and provide a good sensory experience while also improving hand strength. They also emit a satisfying pop noise when pulled.
Buy Now
Senser Play Kit
This adorable fidget toy set has all sorts of gizmos, offering stress relief for your kiddo. It comes with a spinning rainbow wheel, Parts of Me book, rainbow cotton ball, play socks, wobbler, magic tissue box, and play guide. The tactile toys are great for five- and six-month-olds and teach language skills, dexterity, and more.  
Buy Now
Flower Press Toy
This pastel popper is made especially for young children.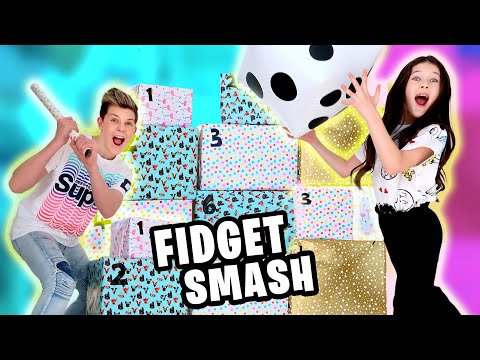 The petal buttons encourage sensory exploration and fine motor skill development. It's made from food grade silicone and is BPA-, PVC-, and phthalate-free.
Buy Now
Robot Fidget Spinners
A combination between a fidget spinner and Wacky Tracks, the interconnecting, clicky, plastic-chain toys, these cool robot fidget toys pack a lot of personality. The multifunction creations are a great way to spark a child's imagination while keeping their hands busy. The chain pieces can be taken apart and reconfigured into multiple shapes. The robots can even be connected.
Buy Now
Tangle
Twist it, turn it, or  tangle it—this plastic toy can be reconfigured numerous ways, pulled apart, or connected with more Tangles to create a super Tangle. The company has a number of texture options to provide all types of tactile input. Models can be hard and smooth, soft and furry, bumpy, ribbed, or even made to resemble a Koosh ball.
For those who want a fidget toy with more personality, the company sells "pet" versions that feature cats, turtles, sloths, bunnies, narwhals, puppies, unicorns, octopuses, and more.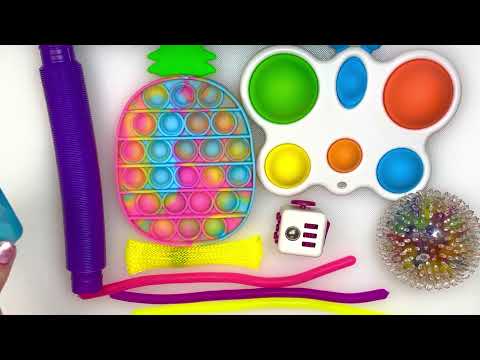 Because it's silent, this is a great option for use in public settings like school.
Buy Now
Pop It! Letters and Numbers
It seems everywhere you go these days there's a Pop ItI fidget toy for sale, and it's not surprising, as kids and adults alike adore these bubble-wrap-like products. This Pop It! Letters and Numbers edition is a particularly great option as it helps kids learn their letters and numbers while also giving them some satisfying tactile and auditory input.
Buy Now
Nutty Toys Tubes
Squish these springlike tubes smaller or pull them apart to enjoy fun noises, connect them to make a massive tube, hook one end to another to make circles, or you can even spin them around to produce a neat whistling sound. While these tubes probably won't keep adults entertained for long, their ability to connect at the ends makes them great for kids, who can improve their fine motor skills by manipulating them. They come in packs of four or eight, so you can even give them out as party favors.
Just be warned, these tubes are a bit loud, so they're best left at home.
Buy Now
Peas in a Pod
When it comes to cute fidget toys, it's hard to beat this precious pea pod. Squeeze it and three peas pop right out—including one with a cute dog face. It's totally silent and comes with a keychain so it can be used anywhere. It only has one fairly simple function, so you probably won't find yourself playing with it for long spans of time. Even so, the cute design has made this a favorite at our house.
Buy Now
Fidgets for Adults
CMY Double Cube
This Japanese-made toy is a cube within a cube. As you move the toy, the different colors combine, revealing new patterns and designs. The larger cube can be  broken apart to free the smaller companion piece, if needed. Keep in mind that this toy has sharp edges, so it's not a good option for younger children. 
Buy Now
Antianxiety Fidget Spinner
Consider this a more elegant approach to the classic fidget spinner.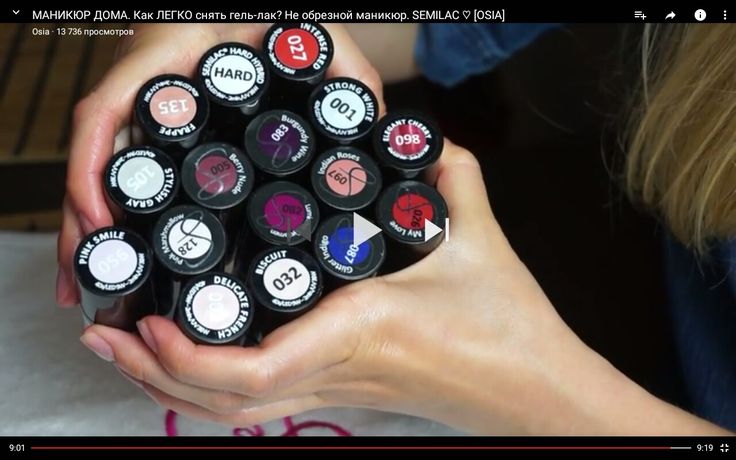 The double pendulum design is mesmerizing yet completely silent, making it great for offices and classrooms. Many autistic people find this design particularly soothing. It's worth noting that some people find it more challenging to use than a traditional fidget spinner, so it might be better for adults and older children.
Buy Now
Buckyballs
Buckyballs were all the rage around 2010, until the CSPC decided they were a choking hazard and banned neodymium magnetic balls completely in 2012. Fortunately for adult fidgeters, a judge overruled the CSPC's ban in 2016, and Buckyballs are back. While the balls should absolutely not be used in homes with young kids, they are a satisfying fidget toy for adults, as they can be used flat to massage the hands or configured together in practically any shape.
Buy Now
Fidget Strip
These rough sensory strips can be attached to the back of your phone, offering a pop of color and some stress relief. You can discreetly scratch and pick at the strips without distracting the people around you.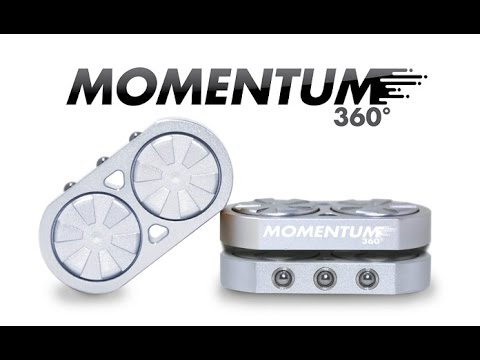 Buy Now
Jewelry Fidget Toys
Fingears
When assembled together, magnetic Fingears rings can be spun around your finger, but that's not all they can do. Enjoy the satisfying feeling of pulling the magnets apart and snapping them back together; flick one of the rings between and around the others; twist them around your fingers; set them on a table and use them like hockey pucks. The possibilities are endless. They're easy to carry and silent, so they can be used in all different situations. The rings are available in a variety of sizes, so you can be sure to find some that fit. On the downside, they are easy to lose, and like all small magnetic objects, you need to keep them away from toddlers and infants.
Buy Now
Sensory Necklaces
These necklaces were my family's first introduction into the world of stimming. We used them to help our son avoid sucking on his fingers at the peak of the COVID pandemic. This pack offers a variety of tactile options, with the donut and shark tooth being better for hard chewers and the feather and twisty shape preferable for gentle nibbles.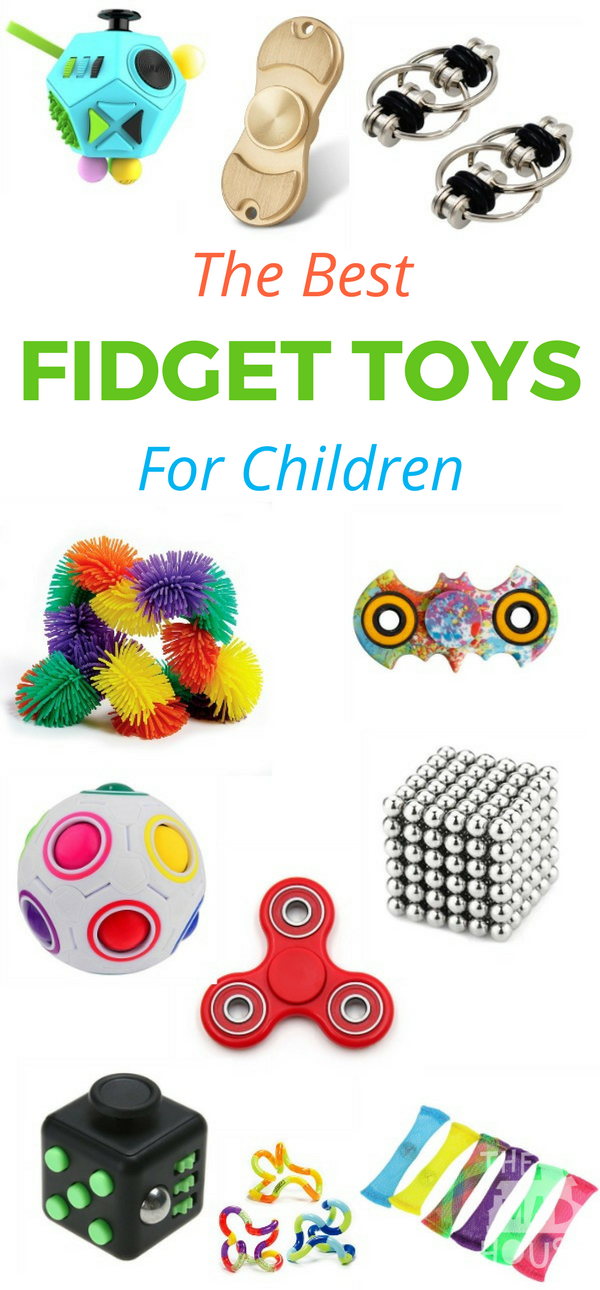 The cute designs make these look more like a fashion statement and less like a sensory input tool—and there are blue and pink versions available, depending on which better complements your child's wardrobe.
Buy Now
Fidget Ring
If you find yourself constantly playing with your rings, you'll love this attractive ring that features a spinning outer band designed specifically for fidgeting discreetly.
Buy Now
Seated Fidget Toys
Wiggle Feet
While most of the products above help people who fidget with their fingers, if you find yourself tapping your toes or fidgeting with your feet whenever you sit down, this foot fidget cushion might help. The cushion has two interconnected chambers for your feet, so when you push down on one part of the cushion, it raises the other areas up, helping you keep moving even in your seat.
Buy Now
Wiggle Seat
If your child has a hard time sitting in one place, it may help to offer an outlet for excess energy so he or she can focus better.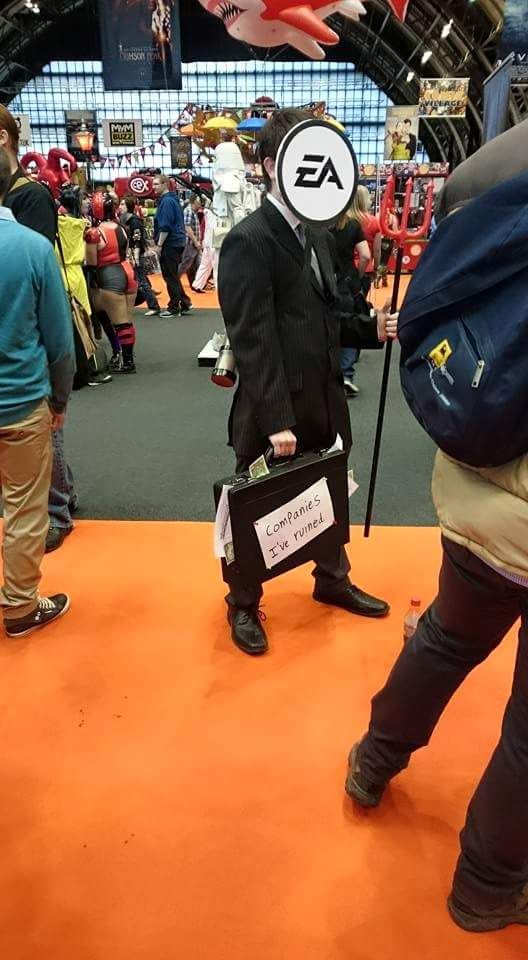 A wiggle seat is a round inflatable seat that requires the user to engage their muscles when they move, giving them something to do with their energy. While many people have had success with wiggle seats, it's worth mentioning that some children, including my son, find them uncomfortable, which makes it harder for the child to focus.
Buy Now
Chair Bands
Sometimes kids just don't know what to do with their legs when they sit down, which is why they often swing them around, tap their feet, or kick the table or chair in front of them. These natural latex bands are designed to go around the legs of chairs and desks to give kids something to do with their feet while they sit, whether that means just resting them on the band or kicking their toes or heels on it.
Buy Now
---
Why Trust Britannica Reviews?
Jill Harness is a contributor for Britannica Reviews and has covered a wide variety of topics, including a few on toys and cool products. She has personally used and tested different fidget toys and spinners for both herself and her son, along with taking the advice from an occupational therapist when making her choices.
The 10 Best Fidget Toys of 2022
We include products we think are useful for our readers. If you buy through links on this page, we may earn a small commission. Here's our process.
If you're looking for a way to increase focus at work, school, or home, fidget toys may help.
Staying focused during meetings or paying attention in class can be difficult for many people. In some cases, these situations may trigger an overwhelming urge to fidget.
Fidgeting may include tapping your foot, wiggling around in your seat, or playing with your pen or pencil so much that it actually breaks.
If this resonates with you, you're not alone. Most people engage in some form of fidgeting once in a while. However, to help you fidget more effectively, you might want to consider getting a fidget toy to occupy your hands and fulfill your need for movement.
Fidget toys are specially designed tools that spin, pop, or offer other ways to keep your hands busy. They come in a wide range of styles, colors, and movement options to fit specific fidgeting needs.
It's important to keep in mind that scientific evidence on their effectiveness to help with mental well-being is limited. Still, anecdotal evidence suggests that some people find these toys helpful, though such evidence is often laden with bias.
If you want to jump directly to the sections for each product, you can click the links below.
Best overall: DoDoMagxanadu Dodecagon
Best for ADHD: Fingears
Best sensory toy: Chuckle & Roar Pop It
Best for autism spectrum disorder: Duomishu Anti-Anxiety Fidget Spinner
Best multi-fidgeting tool: PILPOC Fidget Controller Pad
Best spinner: ATESSON Fidget Spinner
Best for younger kids: BunMo Poppin' Pipes
Best for adults: PILPOC theFube Infinity Cube
Best fidget pen: Editha Stress-Relief Magnetic Ball Pen
Best for inconspicuous use: ALEXTINA Spinner Ring
With so many fidget toys on the market, it may feel overwhelming to find one that fits your needs.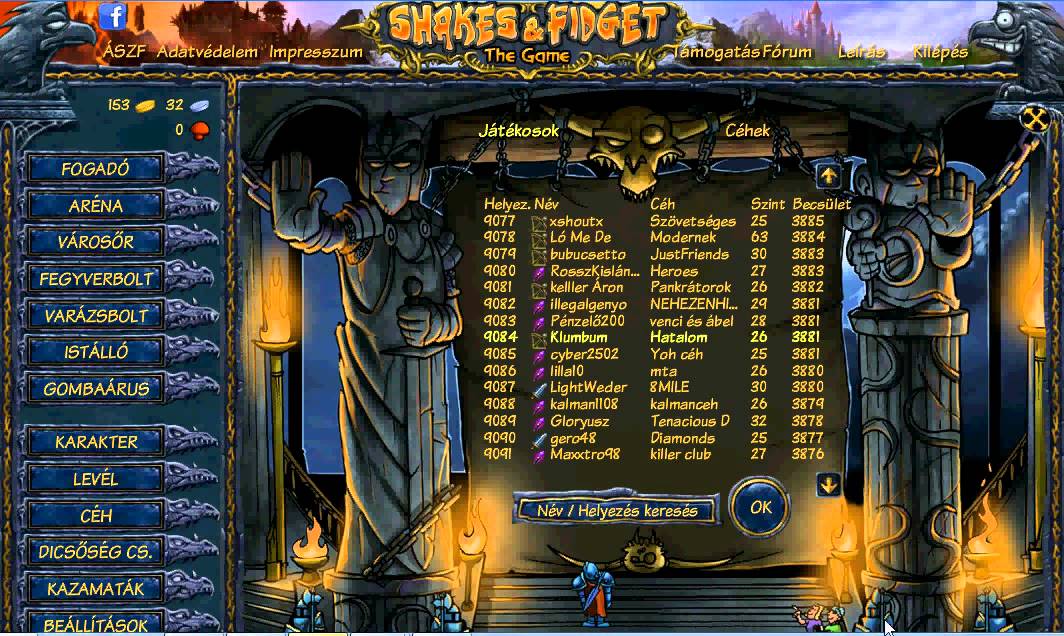 To help narrow the field and chose products for this roundup, we focused on:
positive user reviews
cost
high ratings by consumers
Moreover, all services have been vetted to ensure they meet Psych Central's medical, editorial, and business standards.
A note on price
General price ranges with dollar signs ($ to $$$) are indicated below. One dollar sign means the product is considered rather affordable, whereas three dollar signs indicate a higher price range.
Pricing guide:
$ = under $10
$$ = $10–$20
$$$ = over $20
Best overall
DoDoMagxanadu Dodecagon
Price: $
Recommended age range: all ages
Key features: 12-sided cube, pocket sized, lightweight
Shaped like an octagon with 12 sides, the Dodecagon is a good option for people who have multiple ways they like to fidget.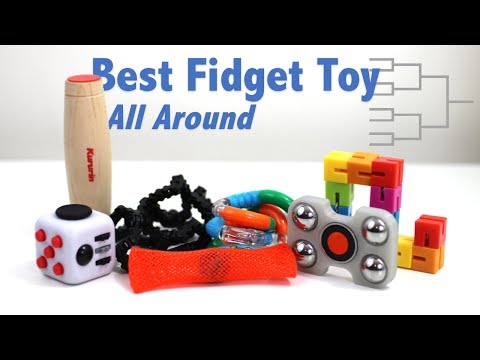 It has a joystick, integrated stress balls, gears, switches — plenty of tools to keep your hands and fingers busy.
What we like
You can choose from multiple functions.
It's highly portable and easy to use.
It's cost-effective for the number of fidgeting options it offers.
What to look out for
Some functions are slightly noisy, which might not bode well in classroom scenarios.
It may have too many options for some people, potentially causing distraction instead of focus.
Get at Amazon
Best for ADHD
Fingears
Price: $$$
Recommended age range: older children and adults
Key features: three magnetized rings, various colors and sizes
Available in different ring sizes and colors, Fingears are a fun three-ring circus for your fingers that may help with focus. They're magnetized and stick together, offering a twirling and spinning action that may help satisfy the fidgeting needs of people with ADHD.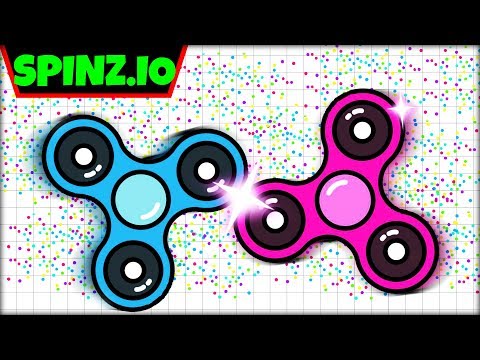 What we like
Fingears are easy to carry along and use in almost any situation.
They offer different actions and fun tricks to keep hands busy.
They don't produce noise when you use them.
What to look out for
The rings separate, so they may get misplaced easily.
They're small in size, so it may not be appropriate for young children.
Get at Fingears
Best sensory toy
Chuckle & Roar Pop It!
Price: $
Recommended age range: all ages
Key features: pops like bubble wrap, easy-to-clean, various colors and shapes
Somewhat of a viral sensation on social media, Pop Its are soft handheld fidget devices that mimic the bubble popping action of bubble wrap. They come in a wide range of shapes and colors and are popular among school-age children and teens.
What we like
Pop Its are ideal for all ages.
It's easy to clean.
The product is durable for daily use.
The popping action and sound delivers tactile and auditory sensory input.
What to look out for
Pop Its do create a popping noise when used, which may cause a distraction in the classroom or workplace setting.
Get at Target
Best for autism spectrum disorder
Duomishu Anti-Anxiety Fidget Spinner
Price: $$
Recommended age range: 10+
Key features: stainless steel, double pendulum, visually stimulating
Many autistic children and adults find watching an item in motion soothing.
This toy combines the action of a typical fidget spinner with a double pendulum spinner. The unique product is small, quiet, and will work in almost any environment.
What we like
Its design produces a unique double spinning action that may prevent boredom.
It's durable, portable, and silent.
The spinning action may appeal to autistic users.
What to look out for
It may be slightly more difficult to operate than a typical fidget spinner.
Get at Amazon
Best multi-fidgeting tool
PILPOC Fidget Controller Pad
Price: $$
Recommended age range: all ages
Key features: eight fidget functions, pocket sized, lightweight
While our "Best overall" option tops this product in terms of number of fidgeting options, we consider this controller pad another great multi-fidgeting choice.
If you're unsure what fidget action is best, this toy covers multiple options with nine ways to fidget all in one handheld pad. It offers rocking, switching, rolling, and spinning actions and comes with a lanyard attached.
What we like
The product provides many fidgeting options.
It's highly portable and discreet.
You can easily operate it with one hand.
What to look out for
Some functions may create noise.
Get at Amazon
Best spinner
ATESSON Fidget Spinner
Price: $
Recommended age range: older children and adults
Key features: discrete,stainless steel, long-spinning
An all-time classic, this handheld gadget is a favorite among children and adults because of its smooth spinning action.
What we like
It's designed for people with ADHD but may also help autistic individuals, folks with anxiety, and anyone who needs to fidget.
It delivers a visual and tactile sensory experience.
It's available in a wide range of styles and price ranges.
What to look out for
Because of small parts, fidget spinners are not recommended for very young children.
Get at Amazon
Best for younger kids
BunMo Poppin' Pipes
Price: $
Recommended age range: children
Key features: tactile stimulation, colorful, bendable, connecting
For preschool- or grade school-age children, these colorful tubular fidget toys deliver a sound and action that's fun and engaging.
You can stretch them out and push them together or connect them to make long tubes.
What we like
The tubes are easy to handle for small hands.
They're lightweight and portable.
Twisting, stretching, and connecting these tubes may help improve fine motor skills.
What to look out for
The popping noise can be loud, which may be too much for children with auditory sensory challenges.
Get at Amazon
Best for adults
PILPOC theFube Infinity Cube
Price: $$$
Recommended age range: 6+ years
Key features: smooth rotation, shapeable, high-quality case,
Made up of several hinged mini-cubes, theFube Infinity Cube can be reconfigured into other shapes the user chooses. As a result, it provides virtually endless ways to occupy your hands.
What we like
It has a unique operation that transforms into different shapes.
Its portable design allows you to keep it in your pocket, bag, or purse.
It may be an option for people who are dissatisfied with typical fidget toys.
What to look out for
It emits an audible clicking noise, which makes it challenging to use in public.
Get at Amazon
Best fidget pen
Editha Stress-Relief Magnetic Ball Pen
Price: $$
Recommended age range: older children and adults
Key Features: stretchable, body-spinning, ball-spinning
For people who like to fidget with pens and pencils, this fidget tool is the ideal solution. You can write with it, bend it, and use its detachable magnetic loop as a separate fidget tool.
What we like
It has dual use as a pen and a fidget tool.
It's discreet for use anywhere.
It has an aesthetically pleasing design.
What to look out for
It includes small magnetic balls that may pose a choking hazard to young children.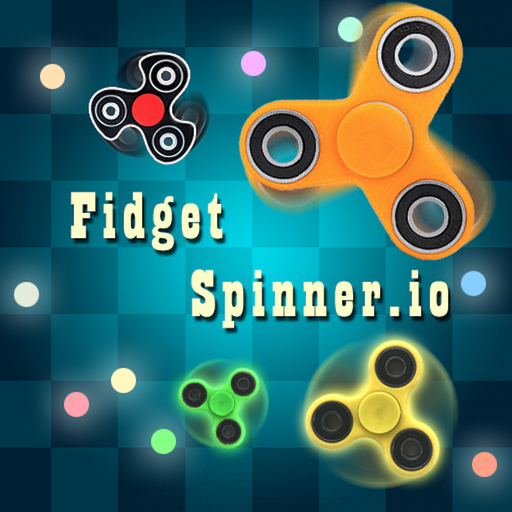 Get at Amazon
Best for inconspicuous use
ALEXTINA Spinner Ring
Price: $-$$
Recommended age range: teens and adults
Key Features: three rings in a gift box, outer band spins around inner band, variety of colors
This fidget device is a ring that you wear on your finger with a spinning outer band. It comes in a variety of colors and allows you to fidget without others noticing.
What we like
It can be used very discreetly.
You can wear it all the time.
You can choose from lots of color options.
What to look out for
They may make a slight noise when spinning.
Get at Amazon
If you didn't find what you were looking for on our list, here are some tips on finding the right product for you.
When choosing a fidget toy, it's a good idea to consider who will be using it before hitting the "buy now" button.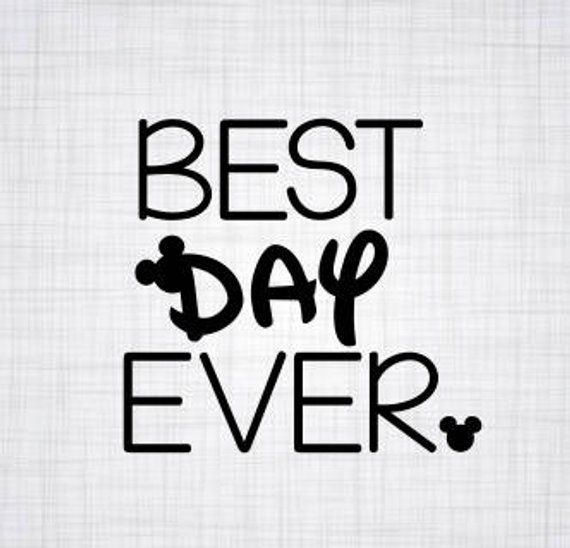 Will a child be carrying the fidget toy back and forth to school? Will an adult use it in an office environment? These are all things to consider before choosing a product.
Also, certain materials, textures, and motions might be more beneficial than others, depending on personal needs. For example, you may find it calming to squeeze a soft, squishy stress ball where someone else might prefer the action of a hard plastic spinner.
How to pick an age appropriate fidget toy
Though fidgeting isn't an age-specific phenomenon, it's always a good idea to consider age before buying a fidget toy.
If buying for a young child, be sure the fidget toy is durable and doesn't have any small parts that could be a choking hazard.
If buying for a teen or adult, consider the environment where the toy will be used. If it's going to be used at school or work, for instance, it's best to avoid one that is distracting or makes noise.
Can fidget toys help?
Fidgeting is a common human behavior that often occurs when a person is nervous, in a stressful situation, or is attempting to focus on a task or pay attention.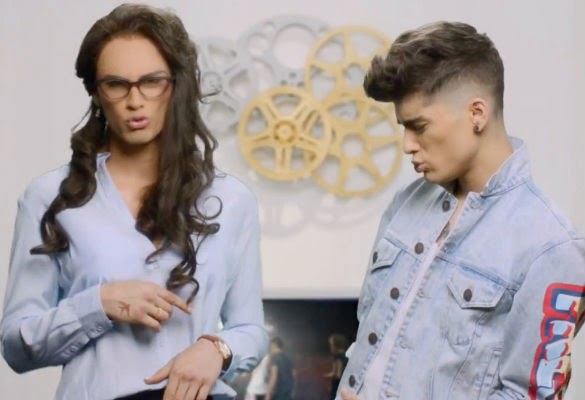 Some people find that fidget toys help them stay calm and focused. However, research on their effectiveness for this purpose is lacking.
A 2018 study suggests fidget toys can be a fun way to increase fine motor control, which is the ability to move the small muscles in the hands to complete intricate tasks like writing. Some people find fidget toys provide the tactile manipulation needed to remain calm and focused during work, school, or home.
Another 2006 pilot study observed 29 sixth-grade students who were allowed to use stress balls in the classroom. Researchers observed and videotaped the students during the 7-week intervention as well as for 3 weeks before it began.
The findings show that when students used the stress balls, their writing improved and they were less distracted. Kinesthetic learners used the stress balls more consistently and showed the greatest improvement in attention.
The best way to figure out if a fidget toy may work for you is to give it a try.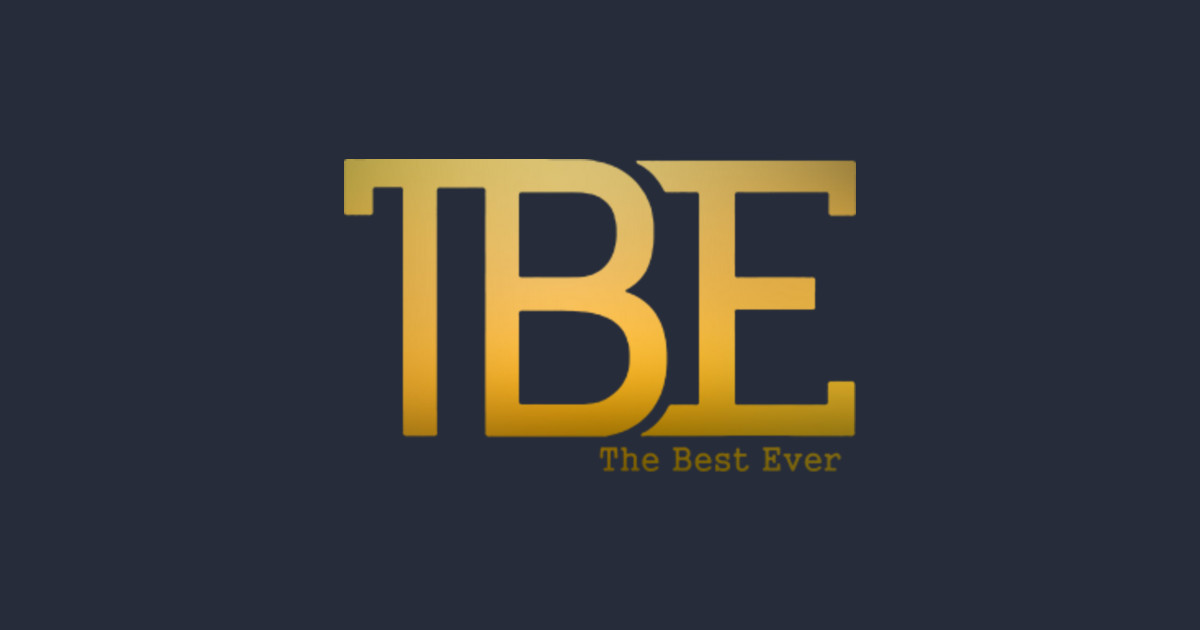 Do fidget toys help with anxiety?
Aside from anecdotes, there is little evidence on whether fidget toys can help specifically with anxiety.
Fidget toys do appear to reduce stress, which is related to anxiety and other emotions like anger, worry, or frustration. Unlike anxiety, stress if often triggered by an external source, though internal factors can sometimes play a role, too.
Do fidget toys help with ADHD?
Research on the helpfulness of fidgeting in ADHD is mixed.
A study in adolescents with attention deficit hyperactivity disorder (ADHD) found that movement was linked to accuracy on tasks requiring intense concentration. In fact, the more the teens moved, the better their cognitive performance.
However, another study found that attention levels in children with ADHD did not improve when they used fidget toys. In fact, the scientists suggest fidget toys may actually have a negative effect.
Do fidget toys help with autism?
Though research is limited on the use of fidget toys in autism, it's known that fidgeting is common in autistic people, and many find it soothing and helpful to engage in repetitive movements.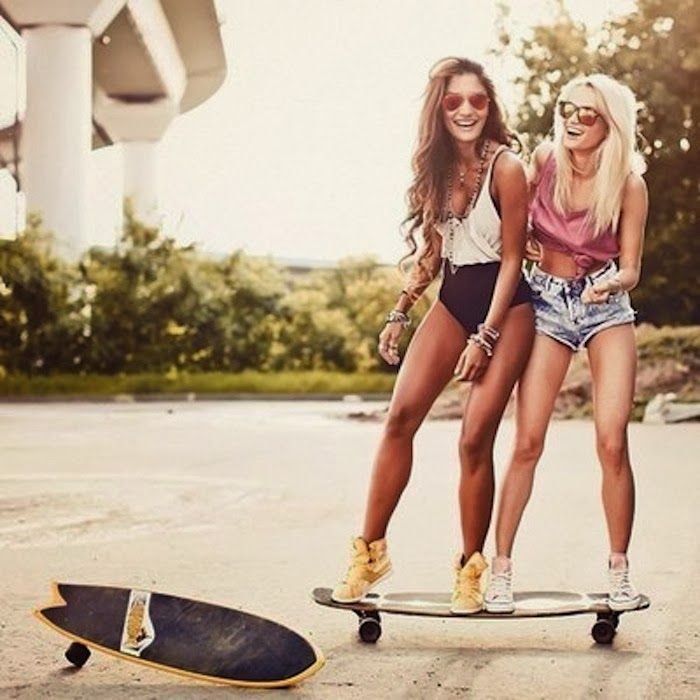 If your child fidgets a lot, it may be helpful to try out a fidget toy to see if it helps with either concentration or stress.
However, some experts note that even though fidgeting may be soothing for autistic people, it may reinforce and potentially even increase repetitive movements, including potentially harmful movements like hitting oneself or others. It may be advisable to discuss the use of fidget toys for your autistic child with their treatment team to determine whether it's a good idea in your kid's unique case.
Whether you're a student finding it hard to stay alert during long lectures, a person with ADHD who needs something to help them focus, or someone experiencing anxiety from time to time, fidget toys may be able to help.
Research on how much or whether they can help is limited. Still, many people find these spinning, popping, or squishy gadgets promote focus and attention when they need it most.
So, if you or someone you know craves movement in certain situations, consider trying one of these gadgets.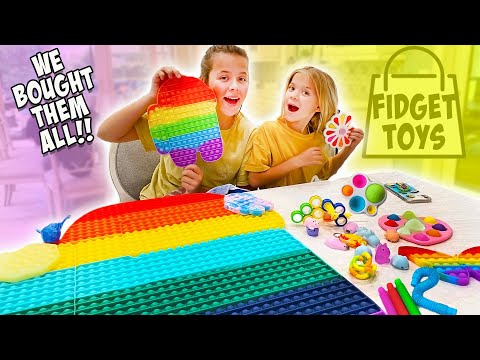 It might be just the thing you need to satisfy your urge to fidget.
Find and show. The best gift for a fidget! | Rami Lilu, Evgenia Popova | ISBN 9785001153528
Features: - Age 3+ - Everything boys love! - Cheerful detailed pictures and interesting questions - Wimmelbuch format, beloved by children and parents - Will take the child for a long time Description of the book On each page - transport, dinosaurs, professions, sweets, tools. The colorful book "The best gift for a fidget" is sure to please the young gentleman! A lot of bright pictures (more than 700 images to search!) And entertaining tasks make the book an excellent educational tool, because it is in the game that children master the skills that are basic for this period - attentiveness, imagination and memory. Children and adults alike will love this book with amazing detailed illustrations. You can play with them endlessly and find something new every time. Train attentiveness, imagination, play team games "Who will find the object faster.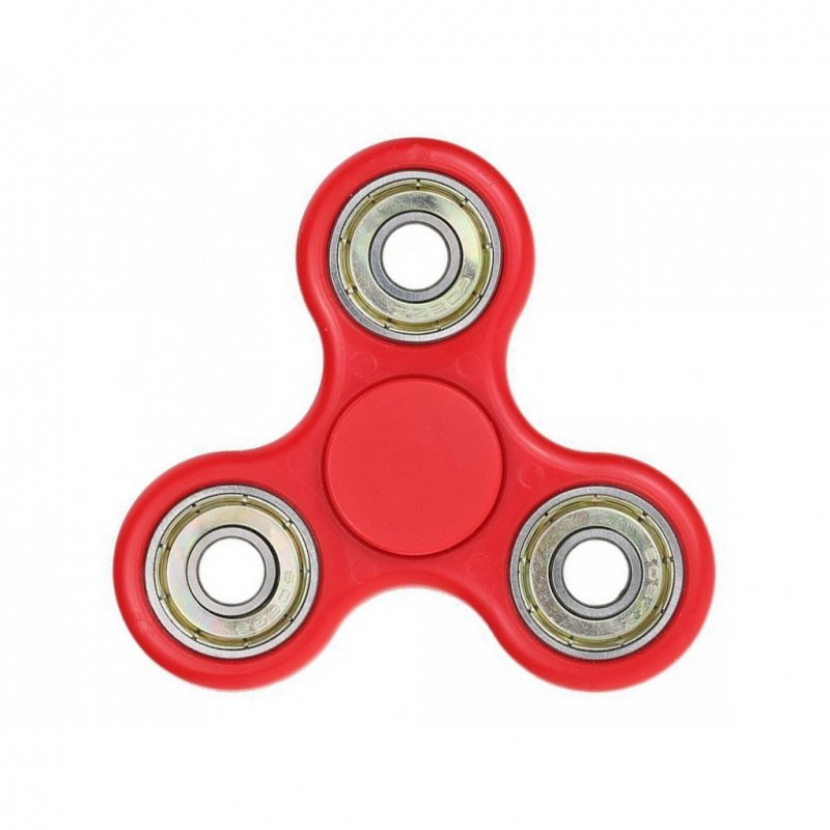 " And besides, the convenient format and high-quality cover will allow you to take the book for a walk or a trip. The book "The Best Gift for a Fidget" is part of the "Play Together Fun" collection. With books and games from this collection, joint activities will be useful, fun, interesting and will bring pleasure to both kids and their parents! Life hack for parents Scroll through the book together and ask the child what objects are familiar to him, what is the name, where he saw what is shown in the picture. Tell your child stories related to the objects in the pictures. Learn new words, colors and shapes. Convenient format allows you to take the book on the road and for a walk. Be sure to praise your efforts. What are we developing? Speech Memory Attention Fine motor skills Expand vocabulary
Fishki: - Vozrast 3+- Vse, chto ljubjat malchiki! - Veselye detalnye kartinki i interesnye voprosy- Ljubimyj detmi i roditeljami format vimmelbukha- Zajmet rebenka nadolgoOpisanie knigiNa kazhdoj stranitse - transport, dinozavry, professii, vkusnjashki, instrumenty.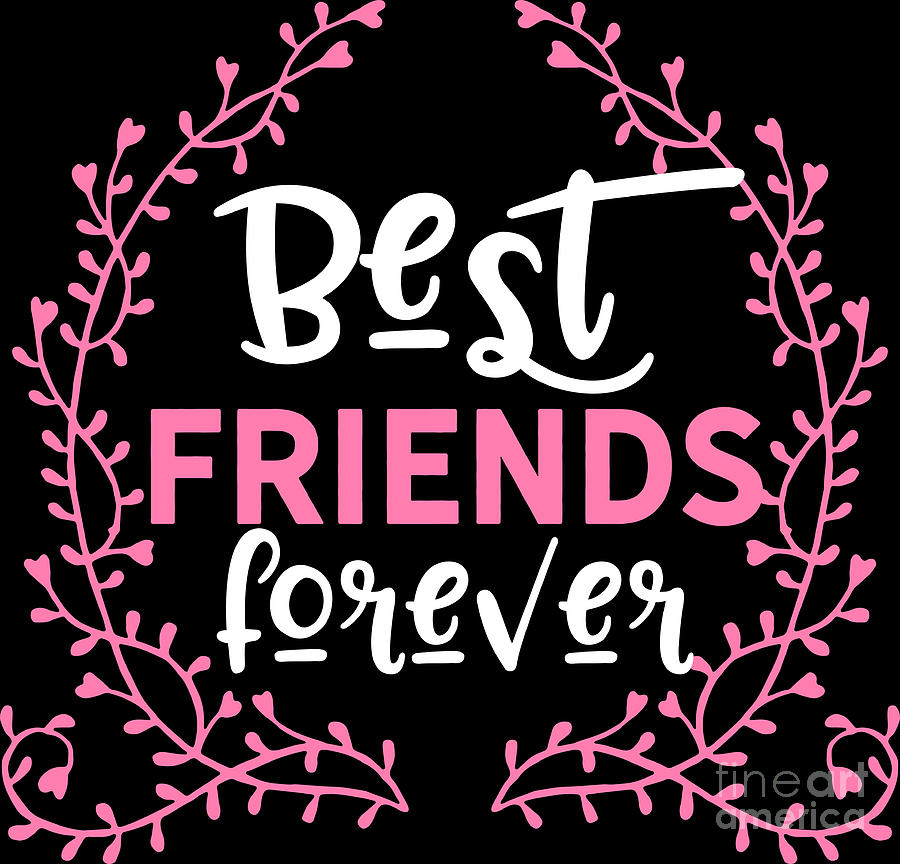 Krasochnaja knizhka "Luchshij podarok dlja neposedy" objazatelno ponravitsja junomu dzhentlmenu! Mnozhestvo jarkikh kartinok (bolee 700 izobrazhenij dlja poiska!) i zanimatelnye zadanija delajut knizhku prekrasnym razvivajuschim posobiem, ved imenno v igre deti osvaivajut osnovnye dlja etogo perioda navyki - vnimatelnost, voobrazhenie i pamjat. Eta book s udivitelnymi detalnymi illjustratsijami ochen ponravjatsja i detjam, i vzroslym. S nimi mozhno igrat bez kontsa i kazhdyj raz nakhodit something new. Trenirujte vnimatelnost, voobrazhenie, igrajte v komandnye igry "Who bystree najdet predmet". A krome togo, udobnyj format i kachestvennaja oblozhka pozvoljat vam vzjat knigu na progulku or v puteshestvie. Kniga "Luchshij podarok dlja neposedy" vkhodit v kollektsiju "Vmeste veselo igrat". S knigami i igrami iz etoj kollektsii sovmestnye zanjatija budut prokhodit s polzoj, veselo, interesno i prinesut udovolstvie kak malysham, tak i ikh roditeljam! Lajfkhak dlja roditelej Listajte knizhku vmeste i sprashivajte u rebenka, kakie predmety emu znakomy, chto kak nazyvaetsja, gde on videl to, chto narisovano na kartinke.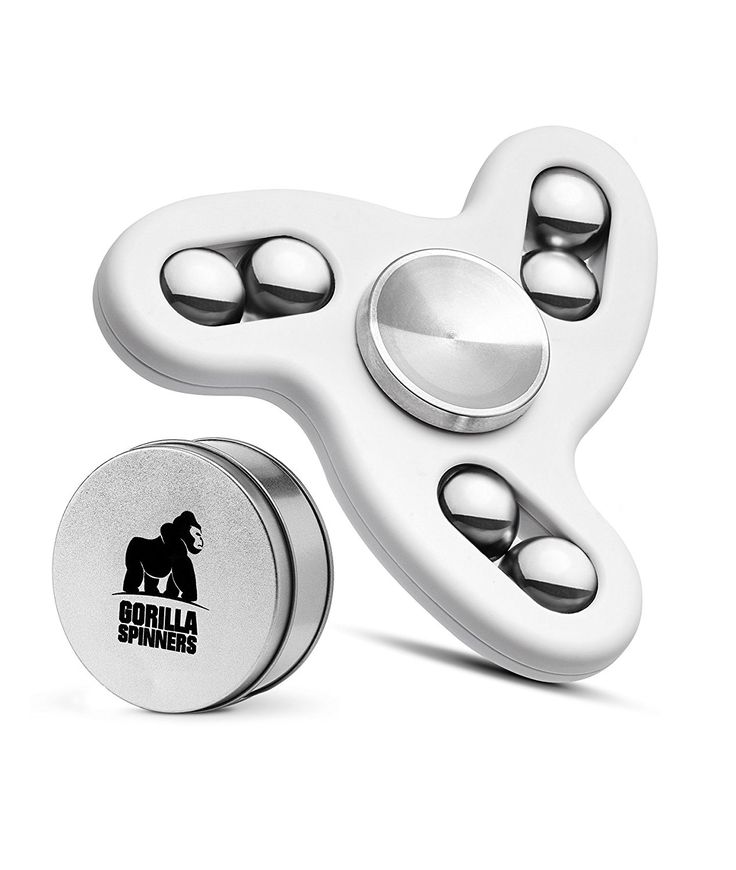 Rasskazhite malyshu istorii, svjazannye s predmetami na kartinkakh. Uchite novye slova, tsveta i formy. Udobnyj format pozvoljaet brat knizhku v dorogu i na progulku. Objazatelno khvalite za staranija. What do we develop? Rech Pamjat Vnimanie Melkuju motoriku Rasshirjaem slovarnyj zapas
The book "Find and show. The best gift for the fidget!" Popova E
Books

Fiction
non-fiction
Children's literature
Literature in foreign languages
Travels. Hobby. Leisure
art books
Biographies. Memoirs. Publicism
Comics. Manga. Graphic novels
Magazines
Print on demand
Autographed books
Books as a gift
Moscow recommends

The authors • Series • Publishers • Genre

Electronic books

Russian classics
detectives
Economy
Magazines
Benefits
Story
Politics
Biographies and memoirs
Publicism

Audiobooks

Electronic audiobooks
CDs

Collector's editions

Foreign prose and poetry
Russian prose and poetry
Children's literature
Story
Art
encyclopedias
Cooking. Winemaking
Religion, theology
All topics

antique books

Children's literature
Collected works
Art
History of Russia until 1917
Fiction. foreign
Fiction. Russian
All topics
Pre order
Acceptance of books for commission

Present

Books as a gift
Author's works
business gifts
literary gifts
Miniature editions
Gifts for children
gift pens
Postcards
Calendars
All gift topics
Gift certificates
Gift Baskets
Gift Ideas

Stationery

business man accessories
Unusual office
Paper and white supplies
Writing utensils
Small office goods
For artists

Services

bonus program
Gift certificates
Worldwide shipping
Corporate Service
VIP service
Services of the antiquarian and secondhand department
Selection and decoration of gifts
Production of exclusive editions
Formation of a family library
Advanced Search
Popova E.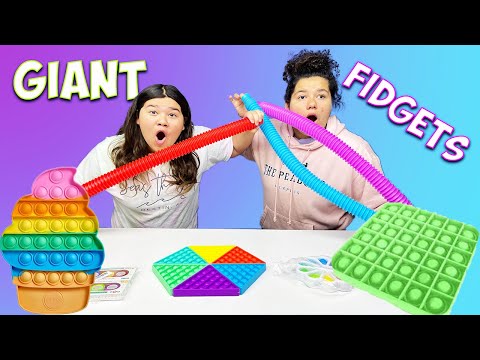 Publisher:

Clever-Media-Group
The year of publishing:

2018
Place of publication:

Moscow
Age:

5 - 7
Text language:

Russian
Cover type:

Hard cover
Illustrators:

Makarenko Natalya Yu.
Format:

70x108 1/8
Dimensions in mm (LxWxH):

340x265
The weight:

360 gr.
Pages:

24
Circulation:

5000 copies
Product code:

917984
Vendor code:

978-5-00115-352-8
ISBN:

978-5-00115-352-8
On sale from:

02/16/2018
Additional Information
Annotation to the book "Find and show.