The rarest fidget spinner
9 Rarest Fidget Toys Ever Released
Fidget spinners have been gaining attention since their introduction to the public in 2017. Starting as anxiety and behavioral problems aids, fidget toys found a larger audience when more children began playing with them instead. One of the main focuses of fidget toys is helping people with concentration or fidgeting problems.
This toy gathered attention soon after release until every kid had one in a different color, size, and price point. Spinners consist of three weighted lobes that spin around the central pad in the middle. Fidget toys can help with anxiety, boredom, frustration, and sensory difficulties. 
Some of the other fidget toys have different functions other than spinning. You can push, flip, and squeeze them too. These toys didn't take significant time to break into bigger markets with specific materials or shapes. This list covers some of the rarest fidget toys you can find!
9. Calm Strips
Price: >$12
Reason for Rarity: Material, Retailer
Recommended Age: All ages
Key Features: Convenient, Small and easy to use/carry, Colorful
photo source: Calm Stripes
Calm Strips have been featured on Shark tank earlier this year, with a unique design and purpose.
Rather than being fidget toys, Calm strips are sensory adhesives that can be touched or scratched due to different textures — subtle grain soft sand and extra-bumpy river rocks are choices at the moment.
Along with strips that can be glued to any smooth surface, the company offers smaller colorful circles to play with too. Said to be used in over 3,000 classrooms, Calm strips are also reusable as one can place them on phones, laptops, desks, and key chains, with many hours of scratch time. 
Did you know?
Calm strips are helpful for all ages. But they can be used by those with inattention problems, hyperactivity, and restricted or repetitive behaviors (ADD, ADHD, ASD). 
---
8. Mezmoglobe
Price: $35
Reason for Rarity: Material, Retailer
Recommended Age: Not suitable for children
Key Features: Modern, Fits with office décor, Optical illusion
photo source: Mezmoglobe
Mezmoglobe is made from aerospace-grade aluminum and represents a perfect office desk décor, and an elegant fidget toy, according to the official website.
The sphere creates a 3D optical illusion of continuous spinning and flows, thanks to the helix design grove on its surface.
The silver-tone and dark titanium are the most popular, but the spinning top comes in different colors. The leather bottom with the company logo prevents scratches on the surface of a desk. Hence, it is a true two-in-one office stress reliever. 
Did you know?
Different ages can enjoy playing with Mezmoglobe, but it's advertised for office spaces. Fidget toys like this one are great for those who lack focus, especially in the work environment. It can bring the person back to this moment, calming down anxiety or panic attacks. 
---
7. Momentum 360 Hand Spinner
Price: $39
Reason for Rarity: Number of Spinners Made
Recommended Age: All ages
Key Features: Lightweight, Ceramic bearings
photo source: Indie GoGo
Advertised as the first Centrifugal hand spinner, this Momentum 360 is rare because only 1,000 units of the toy were made at the time of this text.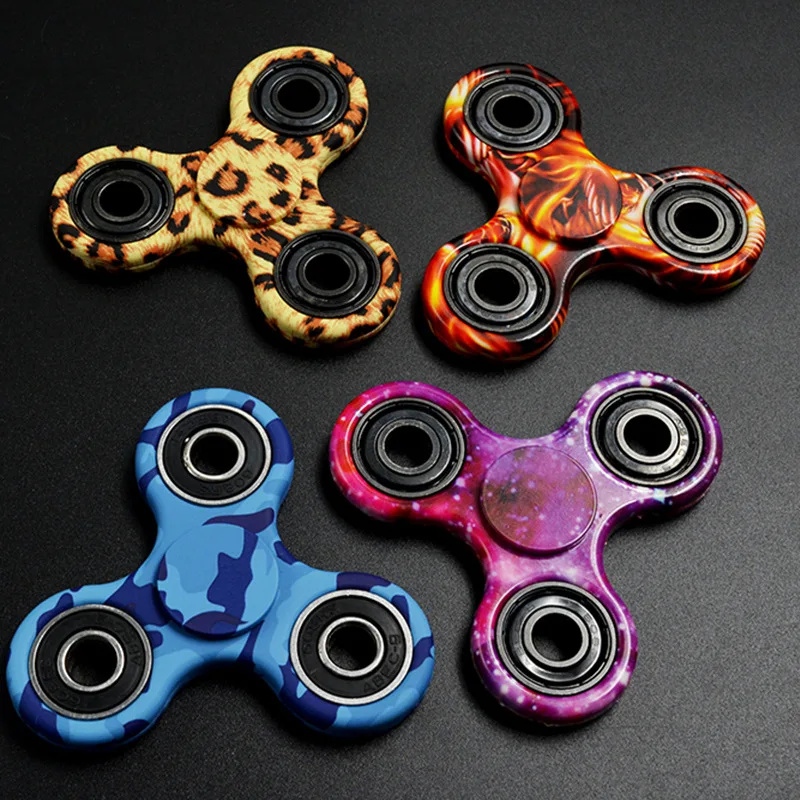 The spinner can be used anywhere, with corrosion resistance added over the bearings.
The momentum 360 is a lightweight spinner that uses its central weight to spin or twirl the same way as the original fidget spinner. The toy is made from strong aluminum and ceramic bearings on both sides, in black, blue, gold, silver, and pewter colors.
Did you know?
The campaign for this fidget spinner started in 2017 when the world couldn't get enough of fidget toys, but only 10 out of 1,000 Momentums have been claimed.
---
6. Black Louts Tri-Spinner
Price: $385
Reason for Rarity: Limited edition
Recommended Age: Not suitable for children
Key Features: Titanium, Lightweight
photo source: Luxatic
Black Lotus Tri-Spinner is the tiniest spinner on the list. Made by jewelry designer Ben Richardson in collaboration with House of Yurich, this three-sided spinner comes in five models, each made from a different material — bronze, brass, premium and standard stainless steel, and sterling silver.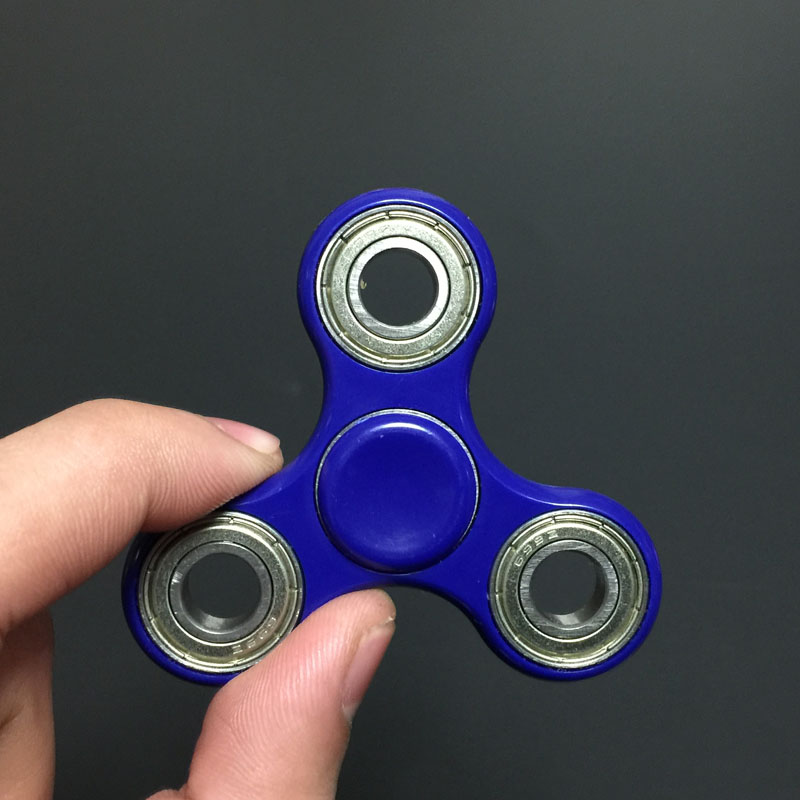 It looks like something one could see in Sci-Fi movies, with its small blades and circuit-like design. Printed in the USA and finished in Australia, this spinner weighs around 2 ounces, and its light design helps with longer spinning, up to a couple of minutes.  
Did you know?
Tri-Spinner was inspired by a Black Lotus sports car due to being lightweight with fine details. Lotus Company is known for sports and racing car production, as they also participated and won Formula One World Champion seven times.
---
5. TiSpin Prop G5 Propeller Spinner
Price: $500
Reason for Rarity: Limited edition
Recommended Age: Not suitable for children
Key Features: Titanium, Lightweight
photo source: Titan Ring Designs
Also called the Collector's Replica Propeller, G5 Spinner is an art piece rather than a toy. One of the first titanium-made fidget spinners, the collection is said to be limited to only 25 pieces with single serial numbers and certificates of authenticity.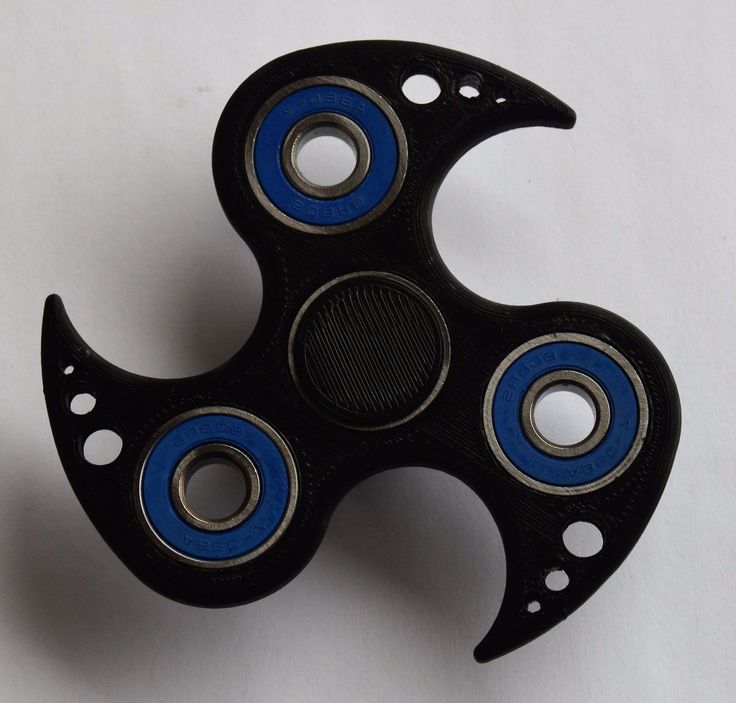 This spinner is split into three series, all with different color distinctions on the propellers, from blue to steel color. The Prop spinner can spin for up to 5 minutes due to its unique design and is made from high-grade titanium.
Did you know?
The spinner is still in a pre-order phase, with two versions already sold out on the official website. Along with the spinners, those interested could also pre-order a desk display stand made from titanium or resin. 
---
4. Pepuakka SNECX S Spinner
Price: $580
Reason for Rarity: Limited edition, Retailer
Recommended Age: Not suitable for children
Key Features: Titanium body, Ceramic bearings, Cigar stand
photo source: Lion Knives
According to the official website, SNECX S Spinner is the holy grail of spinners, and is made out of 20 parts that interlock with each other and two bearings, which is unusual for fidget spinners.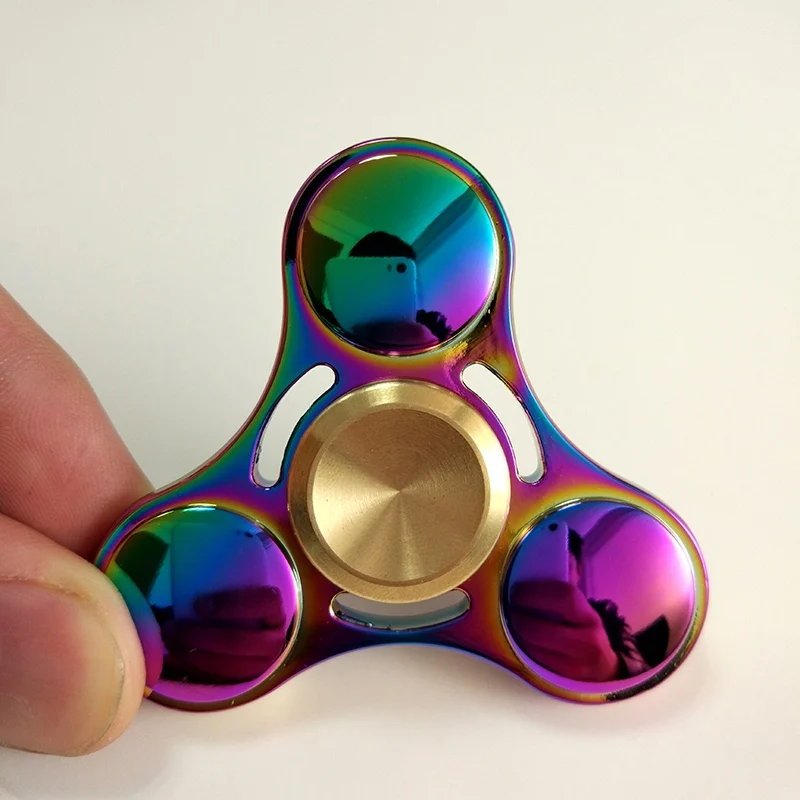 Crafted by a Russian company Custom Knife Factory, this spinner sold out on the official website. 
The unique design gives it a lower center of gravity resulting in longer spinning time and stability once it spins. Some used examples of this spinner are up for sale on eBay and similar websites, but the only authorized seller is From Russia With Knives. 
Did you know?
The first fidget spinner was patented by chemical engineer Catherine Hettinger in 1997. The first intention with this product is unknown, but Catherine's patent expired in 2005 when the use and production of spinners were for worldwide grabs.  
---
3. Superconductor Stubby Spinner
Price: $690
Reason for Rarity: Different uses, DIY kit
Recommended Age: Not suitable for children
Key Features: Titanium body, Ceramic bearings, Cigar stand
photo source: Rotablade
This Stubby Spinner had multiple functions, as it can also be used as a cigar stand, preferably in spinning breaks.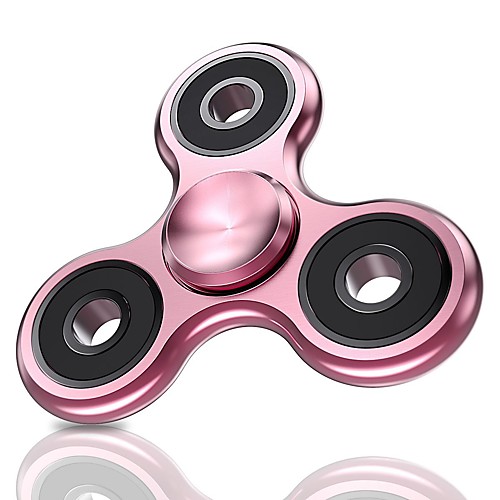 The spinner advertised as a do-it-yourself kit consists of different materials with different finishes and colors.
It has removable screw caps and changing material types, so one can change the look of their spinner as they wish. The most expensive one from the collection is the pure titanium one, but the price ranges are from $650 to $690. 
Did you know?
The superconductor is made by a Rotablade company, known for making and selling unique spinners, pendulums, coins, and spinning stones. 
---
2. Bathgate Artifact Spinner
Price: $700
Reason for Rarity: Number of spinners made, Handmade
Recommended Age: 10+
Key Features: Stainless steel, Brass plate in the middle
photo source: Chris Bathgate Blog
Bathgate Spinner is a collaboration between skilled machinists Chris Bathgate, Mike Hogarty, and Callye Keen from Revolvemakers, mechanical and automobile hardware designers.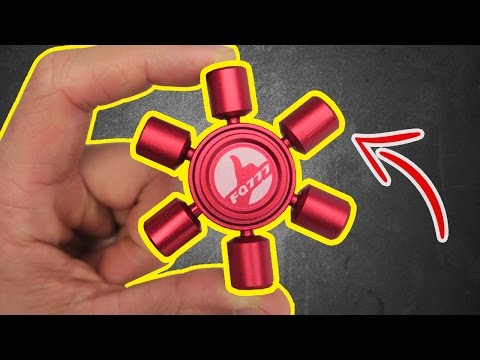 The designer explains that this isn't just a "toy" but rather a kinetic sculpture that will withstand signs of the times.
This one is made from stainless steel and hybrid ceramics, more so valuable for spinner collections. It is unknown how many of these sculptures were made, but their price is around $700 for one.
Did you know?
Chris Bathgate is a machinist sculptor, popular in the community due to his impeccable metalwork sculptures. Chris explains how his work is inspired by conceptual ideas shown in a modern way.
---
1. Caviar Fidget Spinner
Price: $16,855
Reason for Rarity: Material, Limited edition
Recommended Age: All ages
Key Features: 18-karat Gold/Diamonds
photo source: Robb Report
The most expensive and rarest fidget toy on our list is the Caviar fidget spinner made from 18-karat gold and diamonds.
Made by a Russian luxury goods brand, this one-of-a-kind toy came out in 2017, gathering attention as the most luxurious and ludicrous item on the list.
The company offered a couple of spinners ranging from $250 to $16,855, the most expensive one crafted from 3.5 ounces of solid gold. There was also a gold-plated spinner encrusted with diamonds for $1,650 and one without the diamonds for $251.
Did you know?
Caviar, an international brand of exclusive designer phones and accessories, is also popular worldwide because of its different celebrity-inspired smartphones. They offer Steve Jobs, Elon Musk, and Jack Ma-inspired iPhones for a price of a couple of thousand dollars.
---
Whatever the reason for using fidget toys is, the toys can entertain and help many people. The market for these toys is developed with different fidget options available worldwide. Fidget spinner fans only need to find what works best for them and their needs.
8 Most Expensive Fidget Spinners Ever Sold
Fidget Spinners have been here for almost three decades now.
They are often promoted as stress relievers that help manage anxiety or psychological stress.
Popular media claims these toys to be great for people with conditions like ADHD, autism, obsessive-compulsive disorder, and others. Patients with such conditions reported in the past that they found these toys helpful; however, there is not enough scientific evidence to support this claim.
This toy gained sudden popularity around 2017, and many toy-manufacturing companies around the world began producing fidget spinners. However, the craze was short-lived and proved to be more of a fad than a trend.
Fidget Spinners are still on the market, and kids love to play with them. The price range for fidget spinners starts at $6 – $8 and can go up to a few hundred bucks.
Here we have gathered a list of the most expensive fidget spinners ever sold. Most of these spinners were released in 2017 and then quickly disappeared. 
8. Pepyakka S Spinner
Price: $425+
Mede with: Titanium and stainless steel
Manufacturer: Russian with Knives
photo source: wixstatic.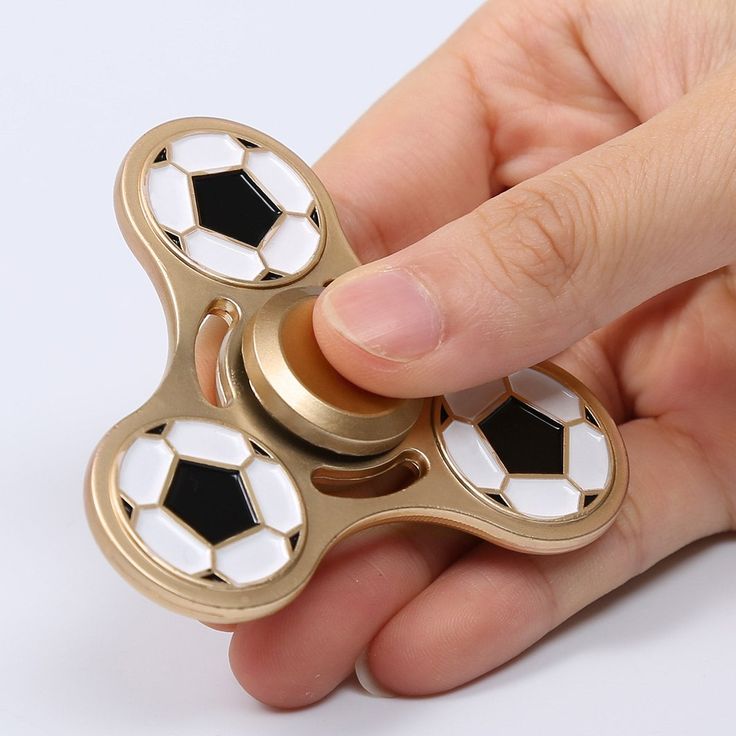 com
Pepyakka S fidget spinner is considered the holy grail of spinners because of its rarity. It was designed by a young talented Malaysian designer, SNECX Tan. The spinner has interlocking pieces and two bearings. Pepyakka S spinners were promoted as a "mechanical puzzle" to solve for the spinners' community.
Aesthetically, this spinner may not be as appealing as some others on this list; however, it offers top performance. The double-bearing design offers super gyro stability and smooth spins.
The Pepyakka S spinner was originally available for around $425 on the manufacturer's website. However, it was only made available to the customers who pre-ordered the item. It is not known how many pieces were sold, but the pre-order window was brief enough to make the item extremely rare.
Some pre-owned pieces appear on eBay and other similar sites and are sold for around $600 or more.
Did you know?
In 2017, when the popularity of the fidget spinner was at its peak, many high schools in the US banned it from their premises.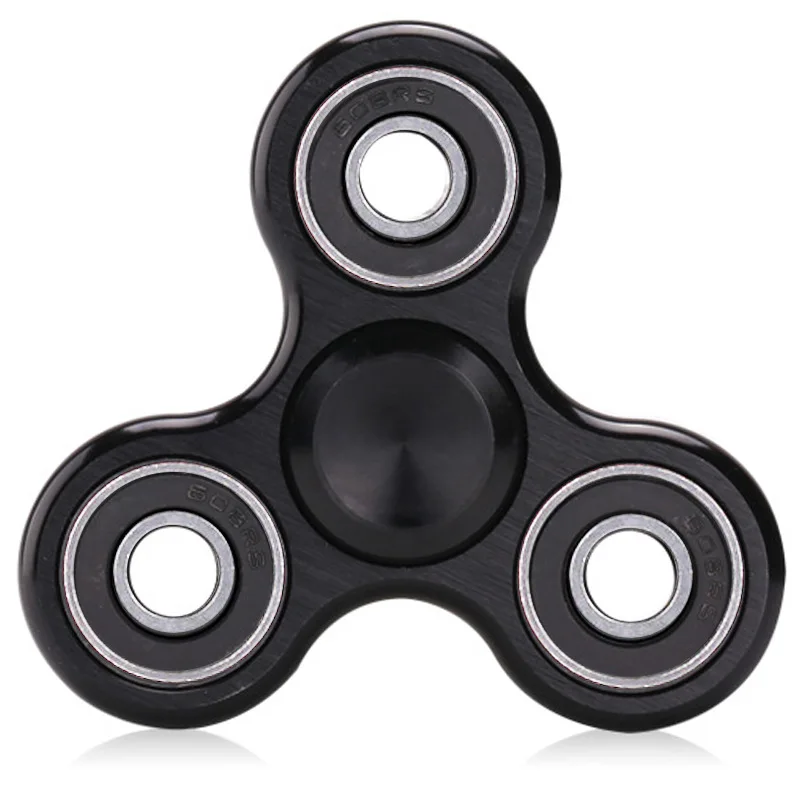 According to the data, fidget spinner was banned in at least 32% of the top 200 American high schools.
---
7. Silver Fidget Spinner
Price: $459+
Mede with: Sterling Silver
Manufacturer: Sunnytech
photo source: amazonaws.com
This fidget spinner had a gorgeous design. The spinner was made with 99.1 grams of silver, and the bearing had a Silicon-nitride finish. The total weight of the spinner was about 110 grams.
It was sold via Amazon.com. However, one needed to order it online and wait for about a month to receive the product as it was specially crafted after receiving an order. This spinner is not available anymore as the company stopped production long ago. You may occasionally find a piece or two on eBay or similar platforms.
Did you know?
A similar fidget spinner was manufactured by Weiheng around the same time. Both looked almost identical, and the price range was also the same.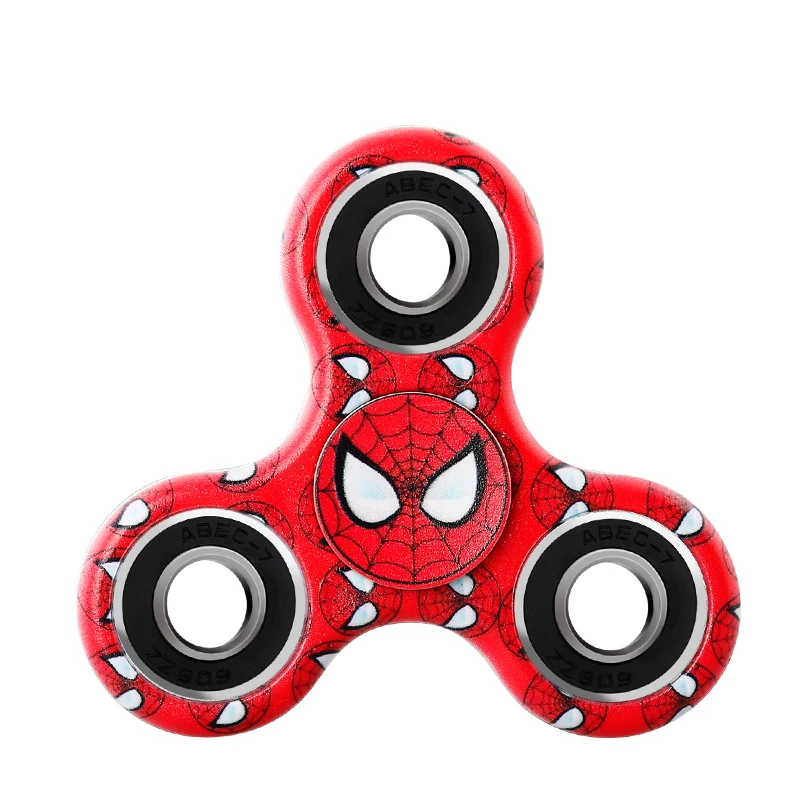 ---
6. TiSpin Prop Fidget Spinner
Price: $475+
Mede with: Titanium
Manufacturer: Titan Ring Designs
photo source: themostexpensive.org
TiSpin Prop is a professional-class spinner manufactured by Titan Ring Designs. It's more of an art piece than just a mere toy. The shape of this fidget spinner resembles an airplane propeller.
TiSpin Prop was the first fidget spinner to be made with titanium. The body of this unique fidget spinner is made with high-quality Grade-5 titanium, where the bearing and tips are adonized. The spinning time of this fidget spinner is up to 5 minutes.
Did you know?
Initially, only a small run of just 10 pieces was released. However, as it was an instant hit, Titan Ring Design made a few more copies based on pre-orders. Customers were allowed to customize the color of the spinner, and each spinner came with a unique serial number and certificate of authenticity.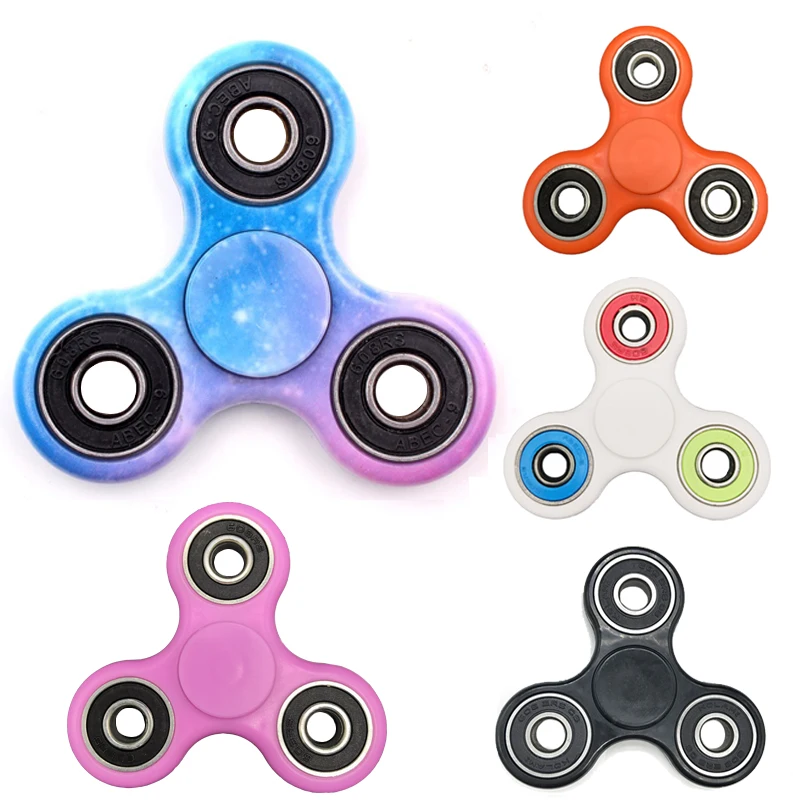 ---
5. Superconductor Stubby Spinner and Cigar Stand
Price: $565+
Mede with: Titanium
Manufacturer: Rotablade
photo source: shopify.com
As the name suggests, this fidget spinner also works as a cigar stand. It is designed by UK-based manufacturing company Rotablade which specializes in making spinners. The company offers a wide range of models, the more accessible ones are made from stainless steel, copper, or brass.
This spinner is available in multiple materials; the most expensive one is made from pure Titanium with a superconductor finish. However, the material is not actually superconductive.
It is available in two patterns, hourglass as well as triple-ponged. The triple-ponged one is called the 'Superconductor Tri-Stubby Spinner'.
The spinner comes with removable screw caps and ceramic hybrid bearings. The spinner may flutter a little while spinning on one finger as it may cause imbalance.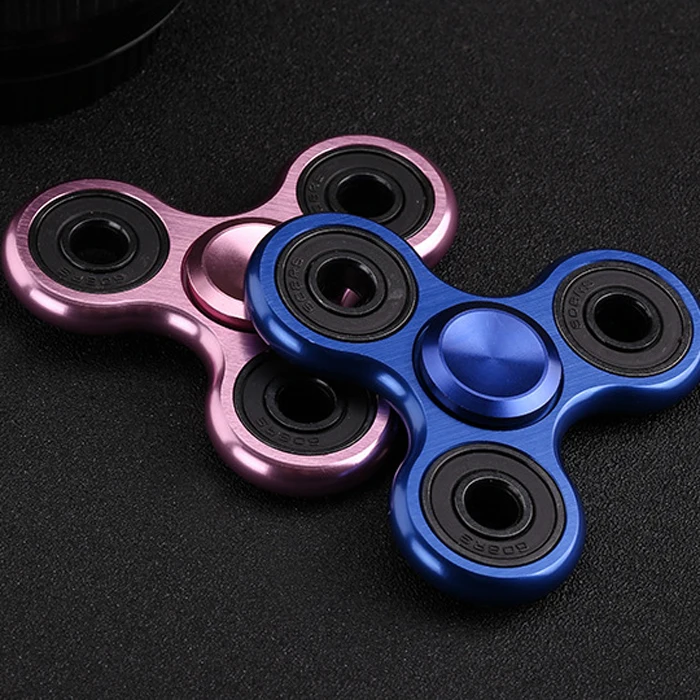 Did you know?
Rotablade's wide range of offerings also includes fidget spinners made with exclusive materials like Zirconium and Mokuti.
---
4. 9 Gear Fidget Spinner
Price: $600+
Mede with: Brass and steel
Manufacturer: Real Gear Spinner
photo source: sites.google.com
9 Gear Fidget Spinner was first conceptualized by Real Gear Spinners in 2017. It had 9 interlocked gears with an intricate design. The spinner was handcrafted, assembling 52 parts, and the side plates and buttons were made with brass.
It was the most sought-after luxury fidget spinner at the time of its release. However, the company couldn't stay in business for long, and thus this spinner is no more available in the market.
The spinner could only be obtained from the company's website. Customers could also order a spinner briefcase specially designed for this model for an additional $140.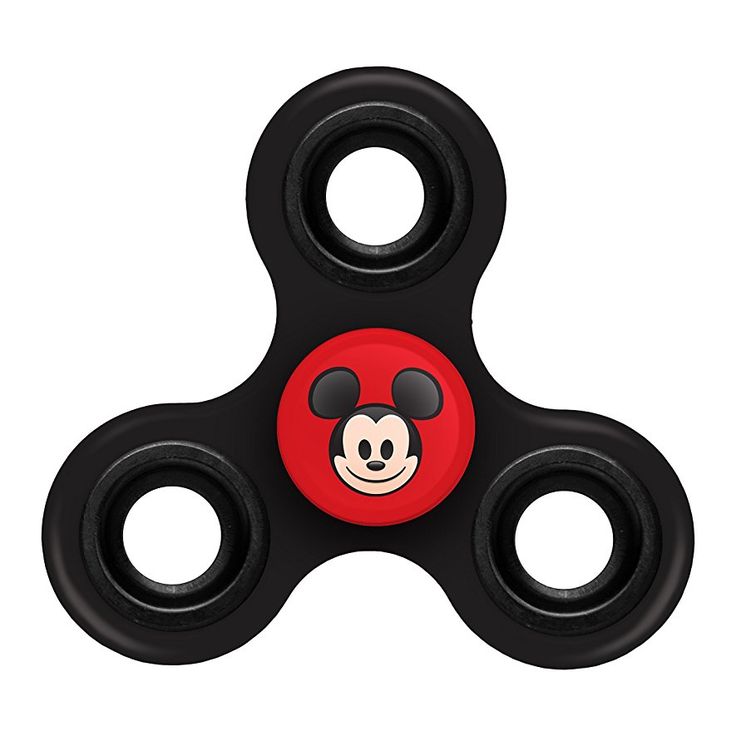 Did you know?
Many 9-gear fidget spinners are still available in the market; they are much cheaper than this first model.
---
3. Steel Flame Ring Spin
Price: $600
Mede with: Various including bronze and adonized titanium
Manufacturer: Steel Flame
photo source: ebosshoss.com
Like many other fidget spinners on this list, Steel Flame Ring Spin is also not in production anymore.
This exclusive high-end fidget spinner was designed by Los Angeles-based custom jewelry maker Derrick Obatake. He combined old-school and new-school techniques to design this unique spinner. He created the spinner to showcase his passion for design and love for technology.
Obatake launched this spinner in 2017, the golden age of fidget spinners. Each spinner was made by hand with a unique ornate design. The price of a spinner would depend on the design as well as the material used.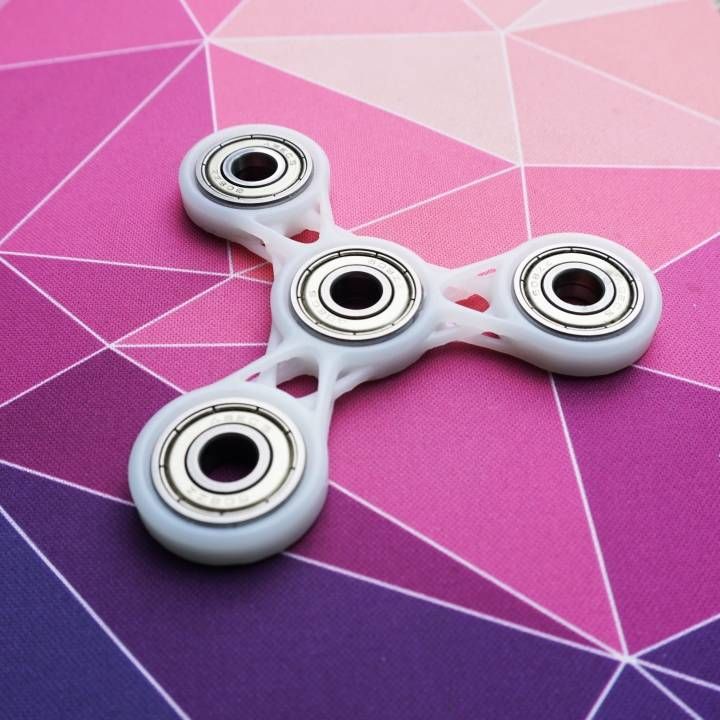 Did you know?
Steel Flame Ring Spin is one of the very few fidget spinners that has turned into a collector's item. Pre-owned Steel Flame Ring Spins are available on eBay for $550+. The highest value it fetched to date is $1500.
---
2. Bathgate Artifact Spinner
Price: $750+
Mede with: Stainless steel, brass, and hybrid ceramics
Manufacturer: Chris Bathgate
photo source: blogspot.com
Sculptor and metal artist Chris Bathgate designed this oddly-shaped spinner in collaboration with Mike Hogarty and Callye Keen from Revolvermakers. Hogarty worked as a master mechanic, and Keen was a product designer.
When Bathgate began designing the project, spinners were yet to become popular among the mass. A small niche of collectors and enthusiasts used to make them for their own creative pursuits. Little did Bathgate and his aides know that by the time they would wrap up the project, fidget spinners would become a world-craze.
In Chris Bathgate's own words, "No matter how spinners may eventually come to be perceived in the world at large, that the spinner represents an object that can be made in a limitless variety of shapes, materials, and designs, creates an excellent opportunity to experiment and talk about the intersections between fine art, commercial products, craft, and design."
This spinner was made as a collectors' item with the finest materials traditionally used in the aerospace industry. It was offered in different color combinations, including blue, red, orange, gold, and steel.
Did you know?
Fidget Spinner was invented in 1993 by Catherine Hettinger, a resident of Florida. She was suffering from an auto-immune disorder that caused muscle weakness. Her condition made it difficult for her to play with her 4-years old daughter.
Hettinger came up with the idea of making the fidget spinner after toying with different ideas. However, Hettinger couldn't hold onto her patent and surrendered it in 2005 as she couldn't afford the renewal fee.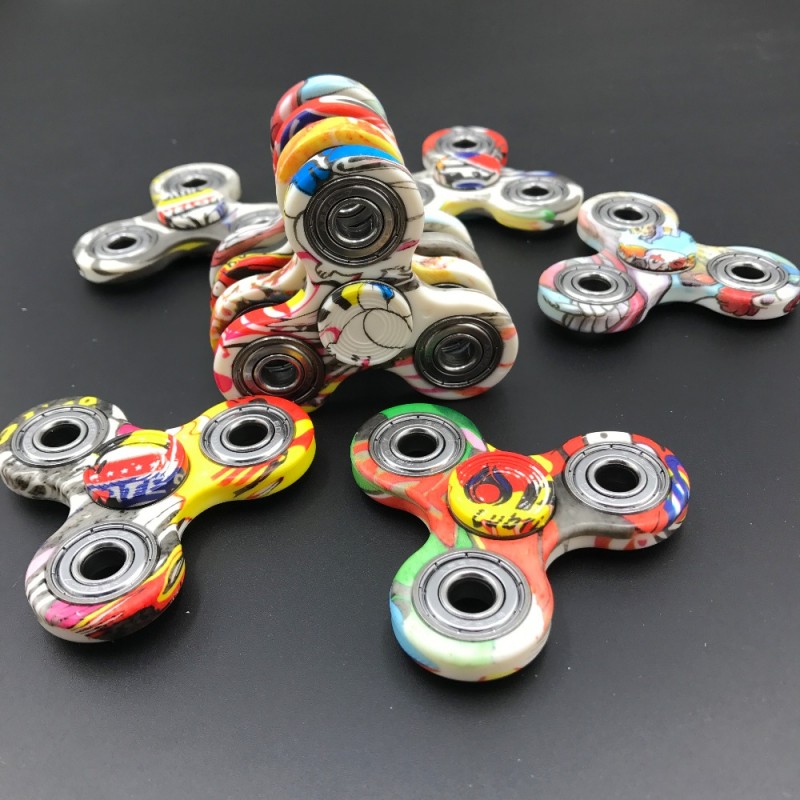 ---
1. Caviar Gold Fidget Spinner
Price: $16,840
Mede with: 18 K Solid gold
Manufacturer: Caviar
photo source: relevantmagazine.com
The Gold Fidget Spinner manufactured by Russia-based jewelry specialist Caviar is the most expensive fidget spinner ever sold in the history. Amidst the spinner frenzy, Caviar launched this exclusive spinner made with from 18k solid gold.
The center of the spinner features a hand-engraved logo of Caviar with a ring of forty gem-quality diamond chips. Besides this super-expensive fidget spinner, Caviar also launched a gold-plated version of the same model.
Caviar has always been known for making expensive luxury items affordable only to a handful of customers. When the world was going crazy about fidget spinners, the company aimed to make the most expensive spinner ever, and they did.
Did you know?
In 2017, a YouTuber Filip Koroy (EverythingApplePro), transformed his iPhone7 into a fidget spinner. He drilled the center of the phone to install the ball bearing. In the process, he cracked the screen and destroyed the device. Although the endeavor costed him $700, the result was disappointing, and the spinner performed poorly.
10 most expensive spinners - Lifehacker
July 20, 2017Recreation
What spinners were not produced on the wave of popularity of these anti-stress toys. There are even models made of solid gold and pieces adorned with diamonds. However, not every spinner has a merchant. Lifehacker shares the rating of the most expensive fidgets that people really buy.
Share
0
10. Crusader Spinner - $260
spinnerlist.com
Crusader was released by KASFLY, orders are accepted only in a closed Facebook group *. The spinner was created for lovers of medieval aesthetics and is decorated with the symbol of the crusaders.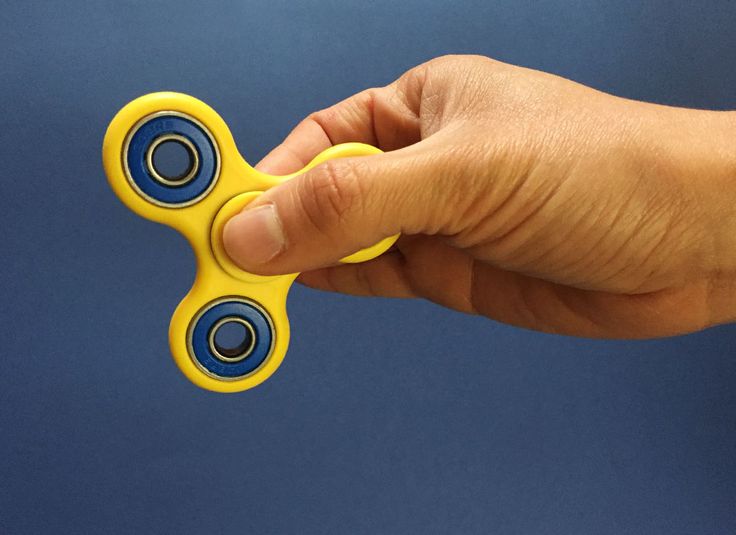 Two spinner models are available - titanium and bronze.
9. Turbine Version 3 spinner - $299
spinnermint.com
Titanium alloy fidget from Metal Worn. It features a long and almost silent rotation.
8. Tispin Prop Spinner - $425
spinnerlist.com
Tispin Prop not only looks like a propeller, but is made from real aircraft titanium.
7. Pepyakka-S Spinner - $425
fromrussiawithknives.com
Produced by From Russia With Knives, a Russian knife company. Brutal design in the tradition of the company makes the spinner look like a bladed weapon.
6. Black Lotus Tri Sterling Silver - up to $445
yurich.com
The spinner was made by craftsman Ben Richardson, founder of House of Yurich. In the line of lotus spinners, the sterling silver model is the most expensive. Cheaper versions are made of steel and bronze.
5. Customized 925 Silver Spinner - $459
amazon.com
Sterling silver model that keeps wearers happy with long spins.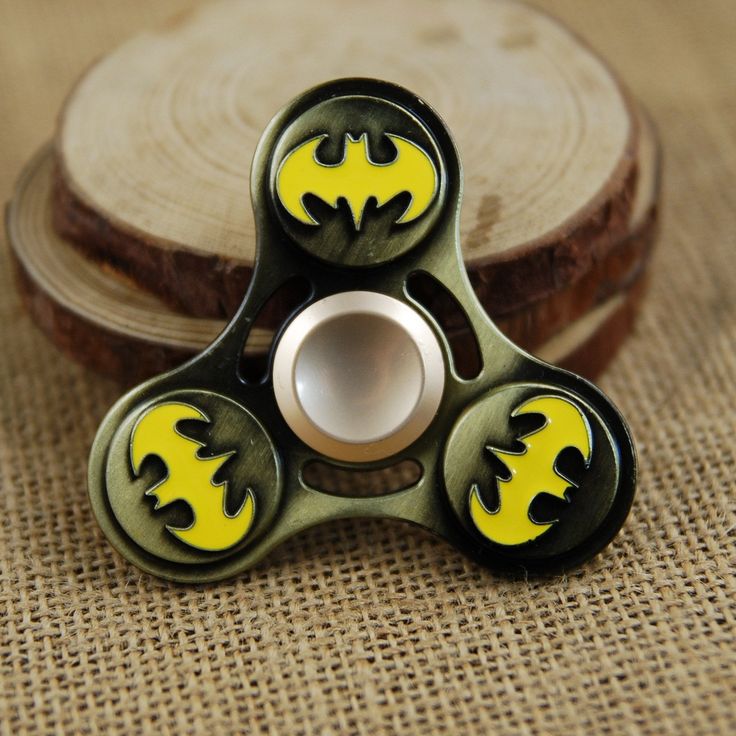 Amazon offers two versions of this spinner - from Sunnytech and from Weiheng. The fidgets are identical and cost the same.
4. 9 Gear Spinner - $600
realgearspinners.com
One of the most popular expensive fidgets. There are a lot of replicas of this spinner on the Internet, but the real one can only be bought on the official website. The model is completely handmade.
3. Rotablade Superconductor Spinner - $665
rotoblade.myshopify.com
A small spinner that can be used as a cigar stand. Several versions have been made, the most expensive being made of pure titanium. Despite the high price, all pre-order copies are already sold out.
2. Bathgate Artifact Spinner - $700
revolvemakers.com
Fidget is crafted by artisan Chris Bathgate, made from stainless steel and brass. All models are also redeemed by pre-order.
1. Steel Flame Ring spinner - up to $1,500
pinterest.com
The spinner was created by Derick Obatake from Los Angeles. The model is made entirely by hand. At the moment, it is no longer produced, so the price of rare copies reaches $ 1,500.
---
If you're not ready to pay a few hundred dollars for a trendy fidget just yet, check out our selection of the best spinners from Aliexpress.
*Activities of Meta Platforms Inc. and its social networks Facebook and Instagram are prohibited in the territory of the Russian Federation.
10 most expensive spinners that are scary even to take in your hands ᐈ zakon.kz
10 most expensive spinners that are even scary to take in your hands ᐈ zakon.kz
Zakon.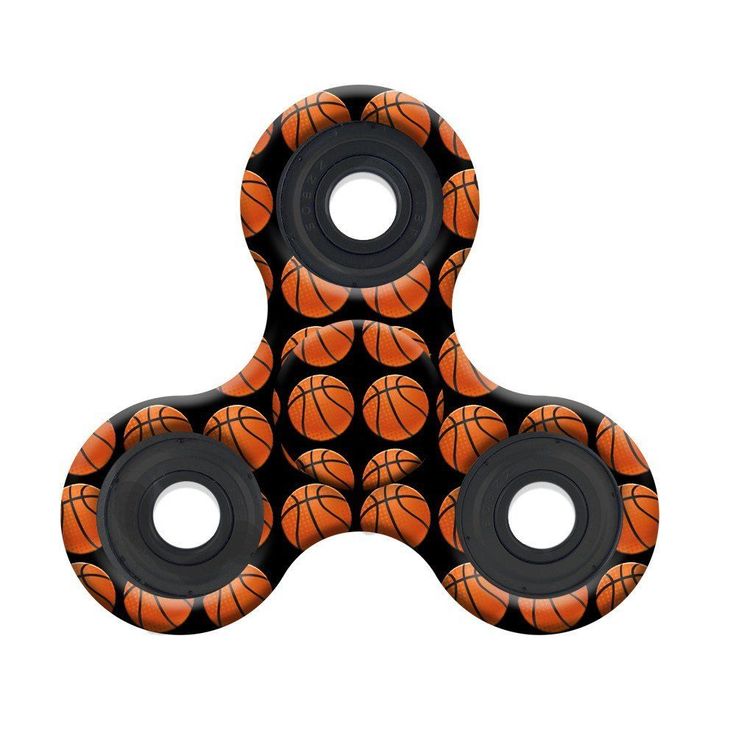 kz
Psychologists say that the spinner is the most popular toy in the world that will distract children from gadgets.
Spinner fashion has literally taken over the world. Surely, everyone has heard about these rotating toys, and someone is still spinning it on their finger. Psychologists say that this is a great opportunity to relax and recover in a stressful situation. As a rule, spinners are very inexpensive, but it turns out that there are instances whose price just rolls over. Writes about it Novate.ru
1. Torqbar Fidget Spinner
$ 199
Torqbar fidget spinner is a real toy for the rich. There are several varieties of it, the most expensive of which is made of titanium and costs $199. However, this is the cheapest spinner on this list. Other, cheaper Torqbars are made from copper, stainless steel, and brass, but titanium has the longest spin time because it is the heaviest.
2. Alpha EDC Spinner Fidget Multi toy
$ 200
Alpha EDC spinner is a unique and creative spinner with multiple functions.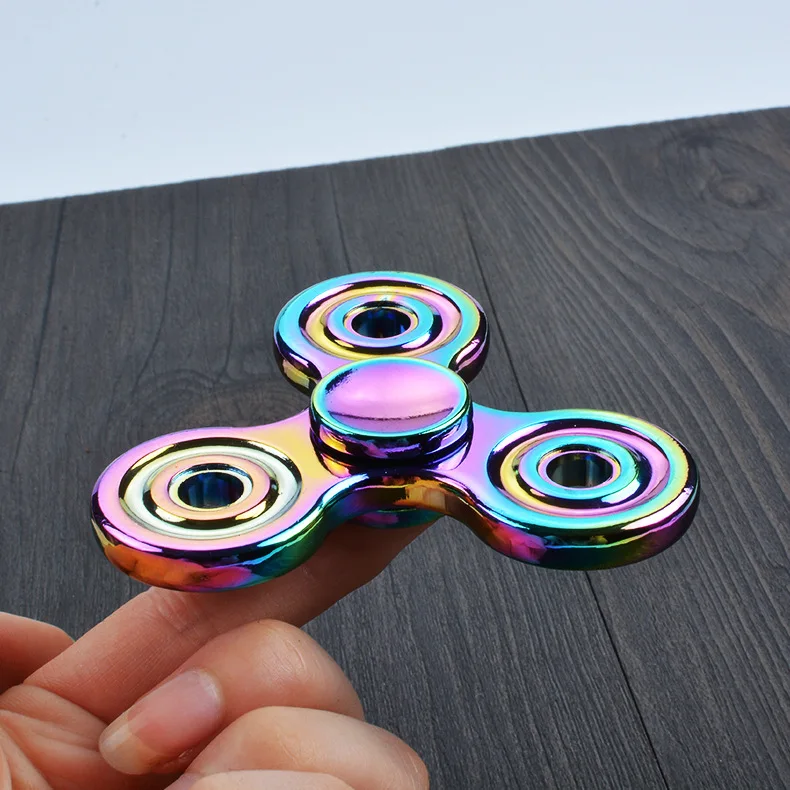 This toy is made of 954 bronze and can spin up to 3 minutes. It is also interesting that the spinner has a replaceable central part, which can be easily changed with a button. Initially, Alpha EDC was just another Kickstarter project, but the number of people who decided to buy a new contraption, and for a lot of money, exceeded all expectations.
3. Crusader
$260
Crusader fidget spinner is made by Kasfly in titanium or bronze. The titanium spinner can spin for 3 minutes, while the bronze spinner can spin for as much as 4. It is noteworthy that the Crusader is decorated with crusader-style religious symbols, and you can buy it in the Kasfly Facebook group.
4. Metal Worn Turbine Hand Spinner v2 and V3
$ 299
The name of the Metal Worn Turbine Hand Spinner v2 and V3 is translated quite unusually – "metal worn turbine blade". Such spinners are made of pure titanium and a ceramic bearing, which gives them a smoother rotation.
5. Black Lotus Tri Spinner Sterling Silver
$335
Black Lotus Tri Spinner Sterling Silver is made in silver by special order only.
The bearing in this spinner is made of polished hybrid ceramic. The company, HouseofYurich, also sells other variations of this spinner at various prices starting at $150. But this particular model has a great design, and it is made using a high-tech 3d printer.
6. Pepyakka-S
$ 425
Pepyakka-S is a Russian With Knives spinner. It is made of 20 parts and equipped with a double bearing. You can only buy it on the website. In fact, the Pepyakka S resembles some sort of action ninja weapon.
7. Sunnytech Customized 925 Silver Fidget Spinner
$ 459
The following spinner has such a great shape and design that you can even just hold it in your hands. Such a high price for the toy is due to the fact that it is made of sterling silver. This is really a great gift that will help dispel nervousness and boredom.
8. Superconductor Stubby Spinner and Cigar Stand
$ 525
Superconductor Stubby is not just a toy, it can also be used as a cigar stand.