Couples intimacy exercises
6 Exercises to Strengthen Emotional Intimacy in Your Marriage
Married Couples, Top-Pick
When your relationship has a high level of emotional intimacy, you share your feelings, needs, fears, successes, and failures knowing you will continue to be loved and cared for by your partner.
Building strong intimacy in your marriage can give your marriage the satisfying fulfillment you desire. 
1.
Do something new and engaging together. 
Prepare new, exotic meals together from beginning to end. Search recipes for some cuisine the two of you would like to try. Together, buy the groceries, prepare the meal, and of course, eat together. 
Learn a new language together. Focus on learning relationship-specific words that will help you express appreciation, be affectionate, and flirt.
Create a marriage bucket list and then get started on completing your list.
Research shows that doing new activities can reignite the passion in your relationship.
They help the two of you experience challenges, successes, and failures together. You're able to see each other's authentic self without the pressure of being perfect. 
2.
Show affection. 
Each day, give each other a deep, passionate kiss for at least 20 seconds. Your body will release chemicals in your brain helping you to increase the connection between you. (We aren't responsible for whatever happens next.😉 )
Each day, give each other a great big hug for a minimum of 20 seconds. This has a similar effect of increasing the bond and connectedness. Just good, old-fashioned affection.
Cuddle. Yes, that simple. Cuddle and rest in each other's presence.
3.
Do marriage enrichment together. 
Take a class.
Attend a retreat.
Participate in a marriage webinar.
Read a book together and talk about it.
See a good marriage counselor. 
All are good ways you can invest in your marriage to help you share, grow closer to each other and strengthen emotional intimacy.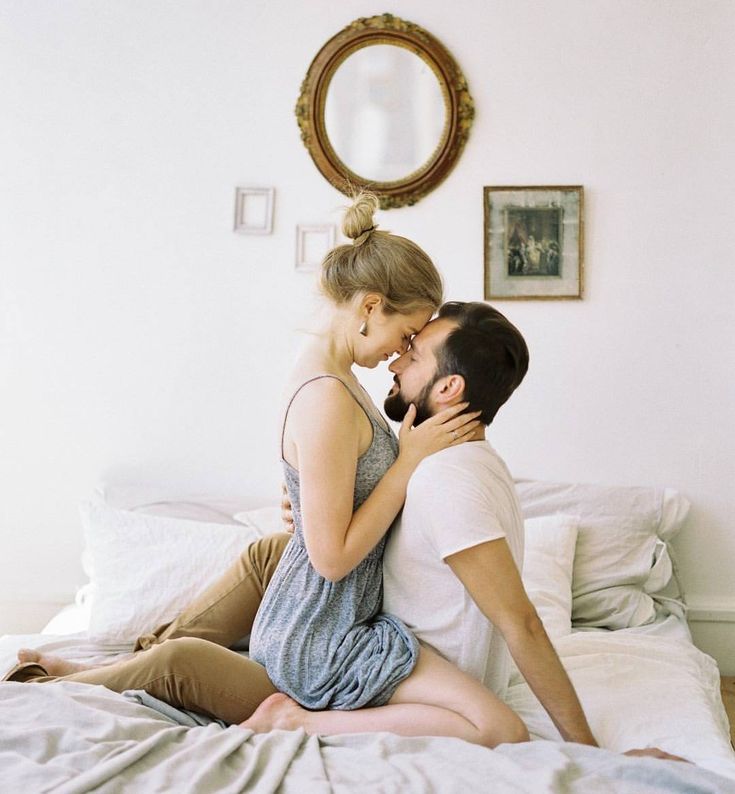 4.
Make time to talk.
Practice focused, uninterrupted talking and listening. Take 15-30 minutes each day to share whatever is on your heart. Your one goal is to make sure that each of you feels heard and understood. Some days the conversation may be a rundown of the day. Other days you may each reveal deeper levels of transparency and vulnerability. 
Be curious. Ask each other questions. Be vulnerable and transparent as you share your thoughts. Increase your intimacy with these 200 conversation starters for couples. 
Set aside regular time to connect. Dr. Linda Duncan, a marriage researcher and Professor Emeritus at Tarleton State University, shares that couples can build intimacy by intentionally connecting at four distinct points throughout their day: 1. When you wake up. 2. Before you depart for the day. 3. When you reconnect after work/school. 4. As you go to bed. 
How you connect at each of these four moments can have a tremendous impact on the intimacy within your relationship.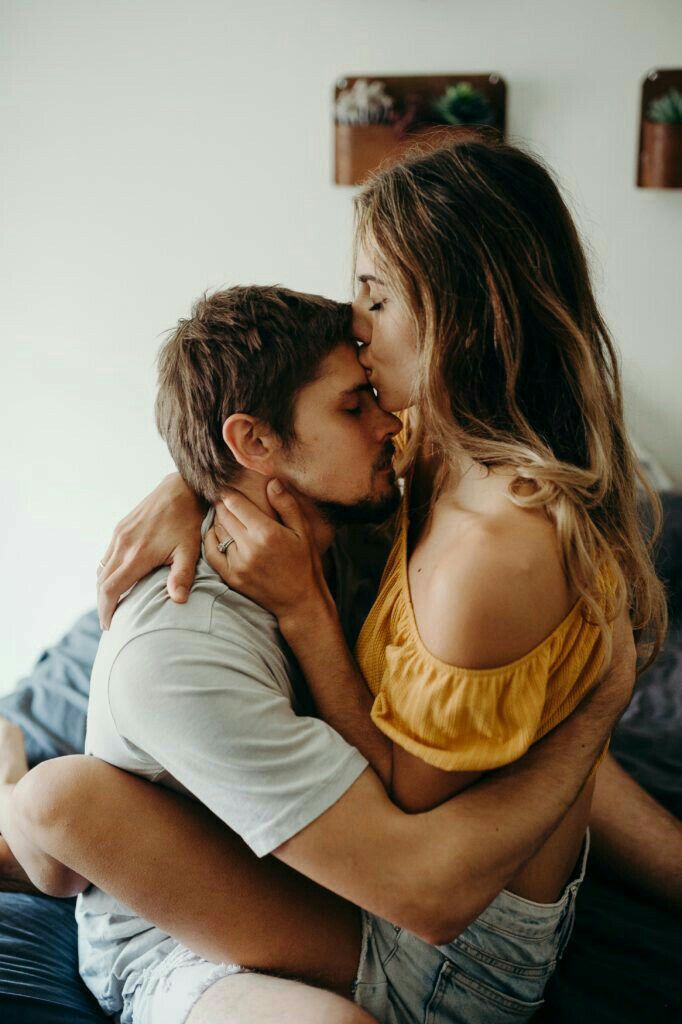 "Connecting" can be as simple as getting your spouse a cup of coffee and saying "Good morning," giving them a kiss goodbye, and saying "I love you," giving them a hug when they get home, and some pillow talk before saying "goodnight."
5.
Celebrate your togetherness
.
Stroll down memory lane, revisit memorable date nights, or look at pictures and videos while reminiscing on the experiences you've shared. 
Take 15 minutes to exchange genuine compliments or express appreciation for each other.
6.
Make the most of pillow talk
.
Eliminate the tech devices and potential distractions. Invest that time into one another. 
Give kids a bedtime or at least a quiet time when they are in their rooms for the night leading up to bedtime.
Share with each other how they can make you feel safe, cherished, and valued.
Talk about what arouses each of you.
Each of these 6 exercises on their own may not strengthen your emotional intimacy.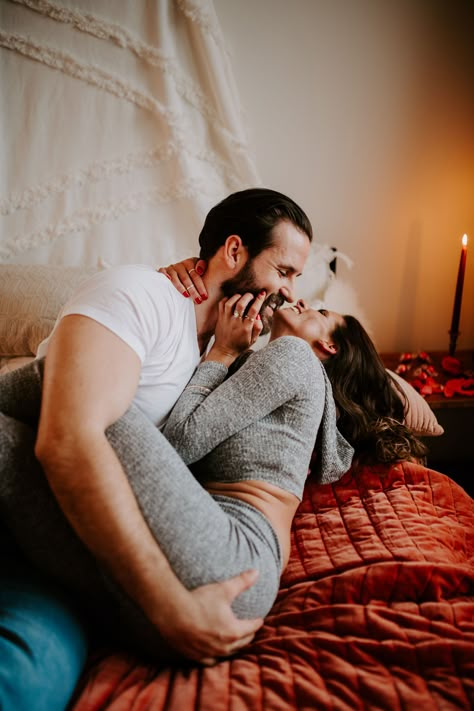 However, if you do these with a heart of gratitude and appreciation toward your partner and you make them a habit, you'll begin to feel closer and more connected. You'll find yourself sharing more of yourself and getting to know your partner more fully. 
***If you or someone you know is in an abusive relationship, contact the National Hotline for Domestic Abuse. At this link, you can access a private chat with someone who can help you 24/7. If you fear that someone is monitoring your computer or device, call the hotline 24/7 at 1−800−799−7233. For a clear understanding of what defines an abusive relationship, click here.***
Did this blog give you the information you were looking for and give you tools to help improve your relationships?
//by Reggie Madison
Tags:
Communication, Date night, Marriage, Marriage Help, quality time https://firstthings.
org/wp-content/uploads/2020/09/keenan-constance-cHRfMBwDb3Q-unsplash-scaled-e1599771130496.jpg 228 600 Reggie Madison https://firstthings.org/wp-content/uploads/2020/01/ftf-logo-300x186.png Reggie Madison2020-09-10 16:52:202022-02-10 11:39:086 Exercises to Strengthen Emotional Intimacy in Your Marriage
6 Connection Exercises For Couples To Build Intimacy
Over the past few years I've compiled a collection of connection exercises that have helped couples from all walks of life increase their intimacy and sense of connectedness.
The couples that tend to flock towards coaching with me are not people who are on the brink of divorce but people who are already in a fairly good place and want to level up their intimate connection. They want to take their 8/10 relationship to a 10/10 relationship.
Here are six of my top connection exercises that my clients most consistently respond the best to.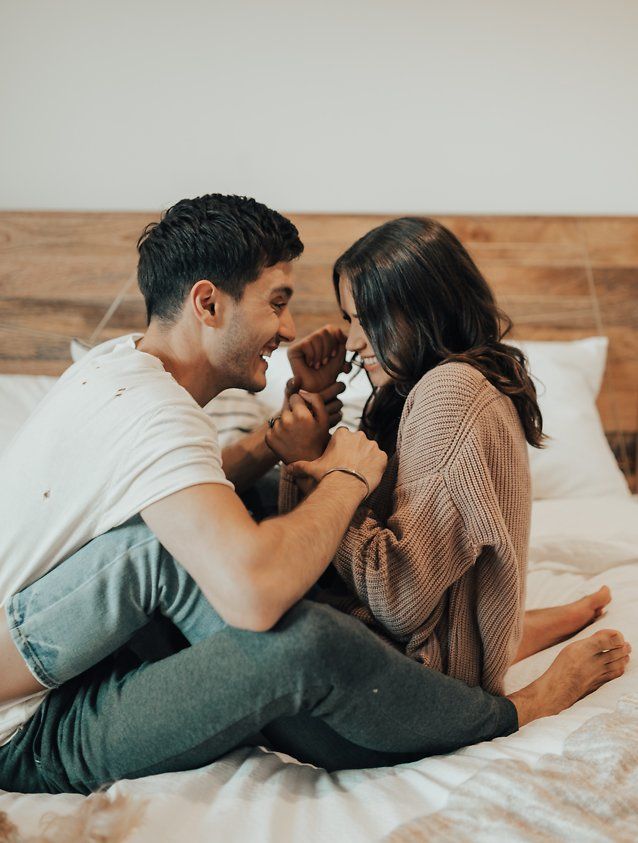 You can do the following in any order, for any length of time, and on a daily or weekly schedule.
(Side note: if you're looking for this concept, but purely through verbal communication, check out this article on asking better questions for more depth in your relationship)
1. Soul Gazing
My clients aren't the kind of people who half-ass things. And this one is definitely not for the faint of heart if you're just beginning (beginners, try #3, #6).
To engage in soul gazing, face each other in a seated position with your knees close to touching and hold eye contact for 3-5 minutes. Yes, you are allowed to blink. Yes, it may feel slightly awkward for the first 1-2 minutes if you've never tried this before. And yes, you should avoid talking during the exercise.
If the quiet is too uncomfortable for you, choose a song and commit to holding the eye contact for the duration of it.
In a world that is increasingly trying to grab our attention and distract us, this connection exercise is sure to efficiently re-spark the home fires.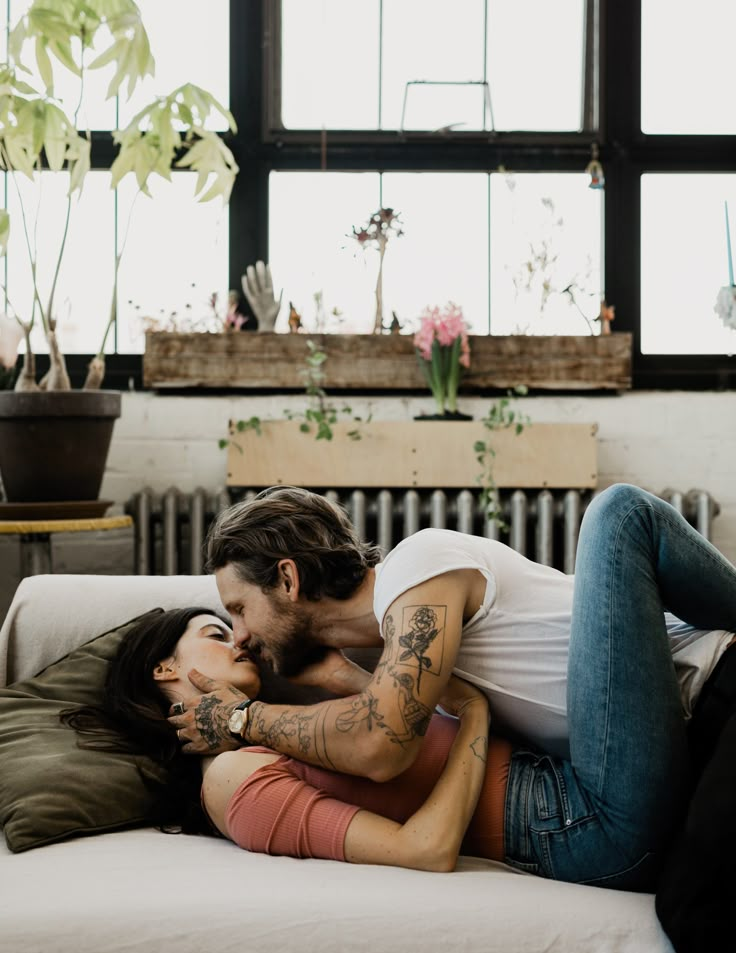 Doing this a few times per week will give you that slowed down connection you and your partner are looking for.
2. Extended Cuddle Time
So simple, yet so often ignored.
What is your bedtime routine? Do you distract yourselves with cell phones, laptops, or books? Do you rationalize that using those things helps you get to sleep? Well, the happy chemicals that get released in your brain from cuddling help you get to sleep even easier.
Whether it's close to your collective bedtime or not, having an extended cuddle session a few times per week does wonders for your intimate relationship.
A few of my clients cuddle to a certain music playlist that they know is a specific length of time (often 20-30 minutes) as their daily required minimum of physical affection. But that's what works for them.
What would you like to see change in your bedtime routine? Think about it, talk to your partner about it, and then incorporate it into your lives as a non-negotiable connection habit.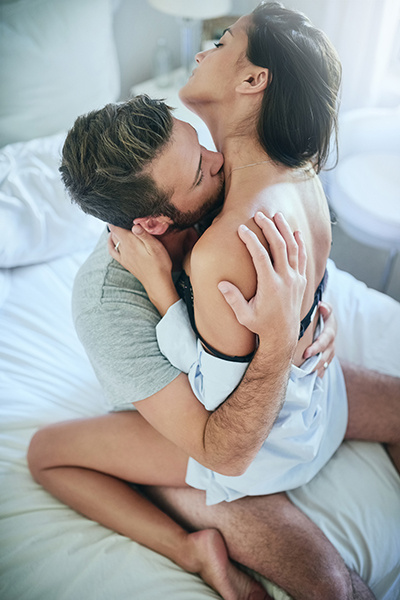 3. The 7 Breath Forehead Connection Exercise
This practice might sound slightly woo-woo, or new-agey compared to the other connection exercises, but trust me… IT. IS. AWESOME!
Whether you're lying on your sides or sitting upright, face each other directly and gently touch your foreheads together.
Put your chins down slightly so your noses aren't quite touching (it's okay if they touch a bit but touching noses is not necessary for this exercise).
With your foreheads touching, breathe seven deep, slow breaths in sync with your partner. Similar to the eye contact exercise the first one or two breaths might feel like they're taking up a lot of conscious thought, but by the third or fourth breath it will feel like a very natural thing to do.
This exercise isn't limited to seven breaths (you can keep going for several minutes if you'd like) but I find that seven breaths is the perfect minimum number of breaths for couples to really drop in to the moment and feel connected.
If you and your partner are overachievers who like extra homework you can do this for several minutes.
4. Uninterrupted Listening
This is the first of the connection exercises on the list that is verbally based, and for good reason. I think that in order to drop in with our partner it's good to start with some non-verbal exercises. Exercises 4, 5, and 6 are verbal, and I would strongly recommend doing one or two of the aforementioned non-verbal exercises first before you start in with your words.
For this exercise, set a timer and let your partner say whatever they need to in order to vent to you. They can talk about their day, their career, how they feel about you, what's been on their mind lately… whatever they feel like.
During their verbal brain dump, it is the receiver's job to simply listen. The receiver doesn't offer any advice or verbal feedback in any way. You just imagine your partner's words as a flowing stream of emotion, and you soak it up.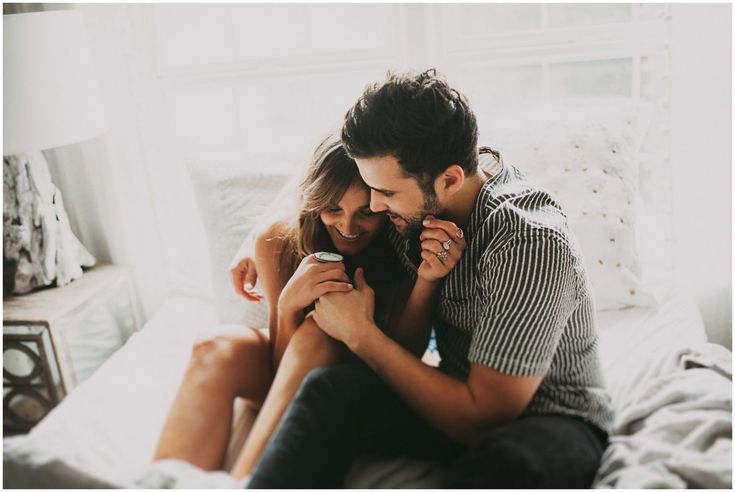 You are free to give non-verbal listening cues with your eyes or body language. But the exercise as the receiver is to simply listen to whatever the speaker has to say. Once the timer has gone off, the roles switch and the other partner has their turn to speak in an uninterrupted stream of consciousness.
One partner might be more verbal than the other, and that's just fine. Often the partner who is quieter or in their head more of the time will welcome the chance to verbalize their thoughts without interruption because they might feel more frequently interrupted in their daily life (whether by their partner, friends, or co-workers, etc.)
5. The Weekly CEO Meeting
Do you and your partner have fairly busy lives?
A lot of communication errors can occur through the course of a week (unfinished arguments, unmet expectations, unheard desires).
Think of the weekly CEO meeting as a way to take out all of your unfinished business and hold it up to the light.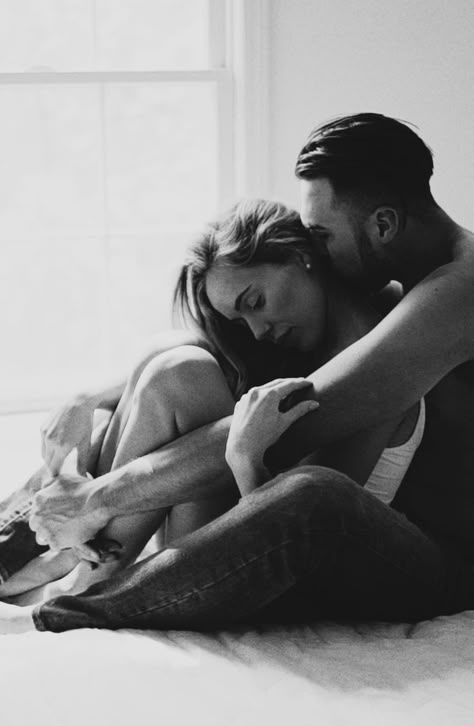 For this connection exercise, schedule a non-negotiable 30-minute connection block where you and your partner remove all distractions from your environment (phones, computers, children, etc.) and have a conversation like the intentional grownups you both are.
You can start with questions like "How do you feel about us today?", "Is there anything you feel incomplete about from this past week that you would like to talk about?", or "How can I make you feel more loved in the coming days?"
Or, full a full list of questions to help you go deep in your intimate relationship, you can check out this article here.
6. 5 Things… Go!
This connection exercise is a personal favourite of mine because it's quick, simple, and can be done anywhere.
Whenever you or your partner calls out your unique codeword or theme, you both go through "5 things" within a certain topic. Some common examples would be 5 things that you're grateful about in your life, 5 things you love about your partner, or 5 things that you would love to do with your partner within the next few weeks.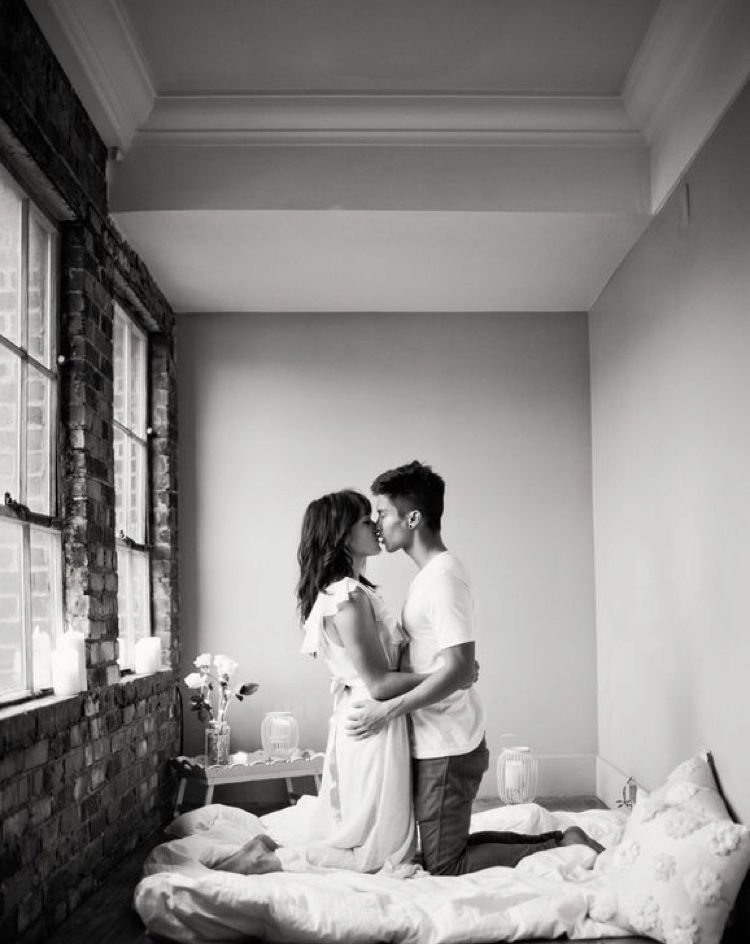 You can either take turns counting out your five, or you can take alternating turns each round.
The versatility and playfulness of this exercise make it a total winner in my books. Get creative. The exercise and the numerous lists that you sound off are only limited by your imagination.
(Want more examples of themes? You could each name five things that would go into your perfect day. Five things that inspire you about your partner. Five things that you love that your partner has done for you lately. Or you could highlight five things your partner has ever said that had a huge impact on you.)
Can You Inject Connection Into An Existing Relationship?
When I first suggest to some of my clients that they intentionally set aside time in their calendars to practice connection exercises as a couple, I am sometimes met with resistance.
"We're dating/we got married for a reason… shouldn't we just feel connected automatically like we used to when we first started dating?"
Remember, relationships thrive when you put effort into them.
And yes, I'm sure you can get by just fine without doing any of the above exercises and have a 'good' relationship… but if you want a great relationship I'd recommend giving a few of the above exercises a try.
Worst case scenario, you spend a few minutes on an exercise that didn't do that much for you. Best case scenario, you discover one of your new favourite things to do with your partner and it becomes an effortless and easy way to re-connect as a couple whenever you feel you may need it.
Dedicated to your success,
Jordan
Ps. If you liked this article on connection exercises, you'll definitely love reading…
– 50 Powerful Romantic Gestures That Will Make Your Partner Melt (e-book)
– The 14 Day Relationship Revitalizer
– 10 Questions To Ask To Go Deep In Your Relationship
– 7 Powerful Trust Exercises For Couples
– Clearing: The Single Greatest Connection Exercise For Couples
Wumbling exercises: Intimate gymnastics that will increase pleasure in bed | Sex
You must learn this secret.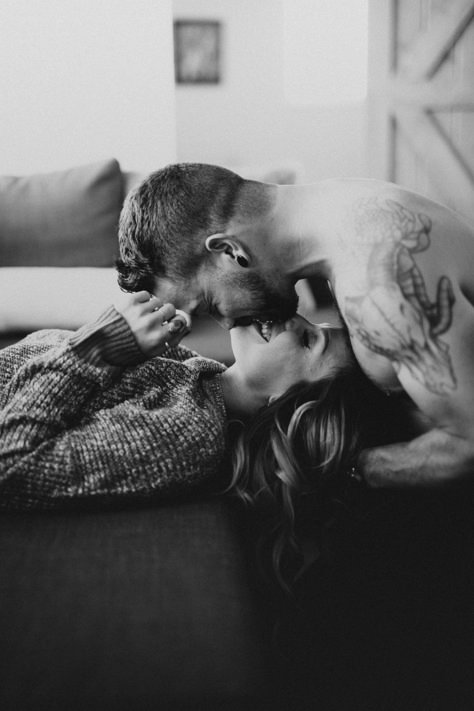 ..
Every woman is unique and beautiful, moreover, she has many hidden talents. But if it is not so easy to develop creative abilities, it is quite possible to become a sorceress in sex.
Intimate gymnastics and its effect on partners' enjoyment are legendary. But is such a "sport" really capable of changing your sex life beyond recognition? Let's find out now!
What is wumbling?
This is an intimate muscle workout that has become surprisingly popular in recent years. And she is advised not only by coaches to enhance femininity, but also by professional doctors.
However, it is worth noting that gymnastics of only one zone is not enough - it is worth creating a muscular "skeleton" of the whole body. Strengthen legs, hips, abs, and only then work on delicate areas.
How does it work?
It has been proven that female hormones are produced from squeezing and unclenching intimate muscles, which not only improve mood, but also the condition of hair and skin.
Sexual desire increases and pheromones are produced - the woman's eyes "burn", the behavior eloquently hints at seduction, and men can hardly restrain themselves so as not to "eat" such a sweet candy.
Wumbling has a positive effect on general health, reduces pain during menstruation, increases the tone of the uterus. Moreover, in women who were engaged in intimate gymnastics, childbirth is easier.
However, there are contraindications: it should not be performed by pregnant women, those who have recently terminated a pregnancy, and during menstruation.
I want to try...
Let's start then! I will tell you about three exercises, thanks to which you will be convinced that a few minutes a day will make everyday life even hotter!
Anti-stress exercise
Lie on your back, put one hand on your chest, the other on your stomach and take a deep breath in and out. Inhale deeply again, but at the same time the chest should not rise - only the stomach.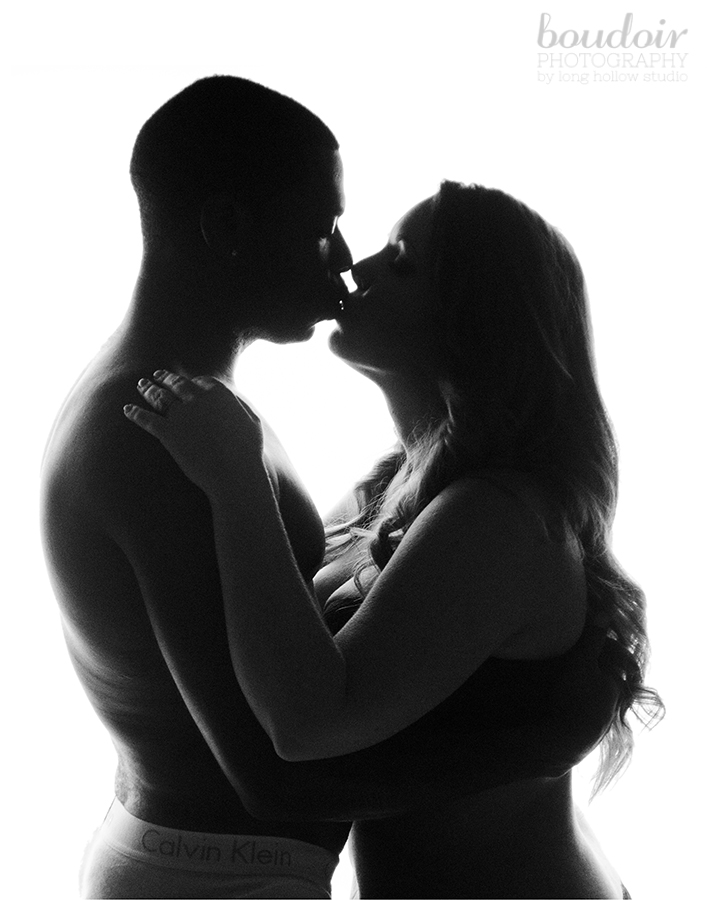 When you master this art, try to repeat the exercise while sitting and standing. It improves blood circulation and also works as an excellent sedative.
Kegel exercise
Lie on your back, legs slightly apart and knees bent. Press your buttocks to the bed and do not lift. Slowly contract and stretch your pelvic muscles (hold for 2-3 seconds, then relax). Do 10-12 repetitions for 5-7 seconds and repeat the exercise three times a day.
Actually, any load on the intimate muscles will be useful, so when you learn to control relaxation and tension, you can train where and when you want. By the way, the study shows that the regular performance of the Kegel exercise brings its "fruits" in a matter of weeks.
Exercise machine
Not everyone dares to experiment with toys, but they really enhance the effect of training. I'll tell you about the simplest device - vaginal balls. Using them is simple, the main thing is not to let them fall out during training.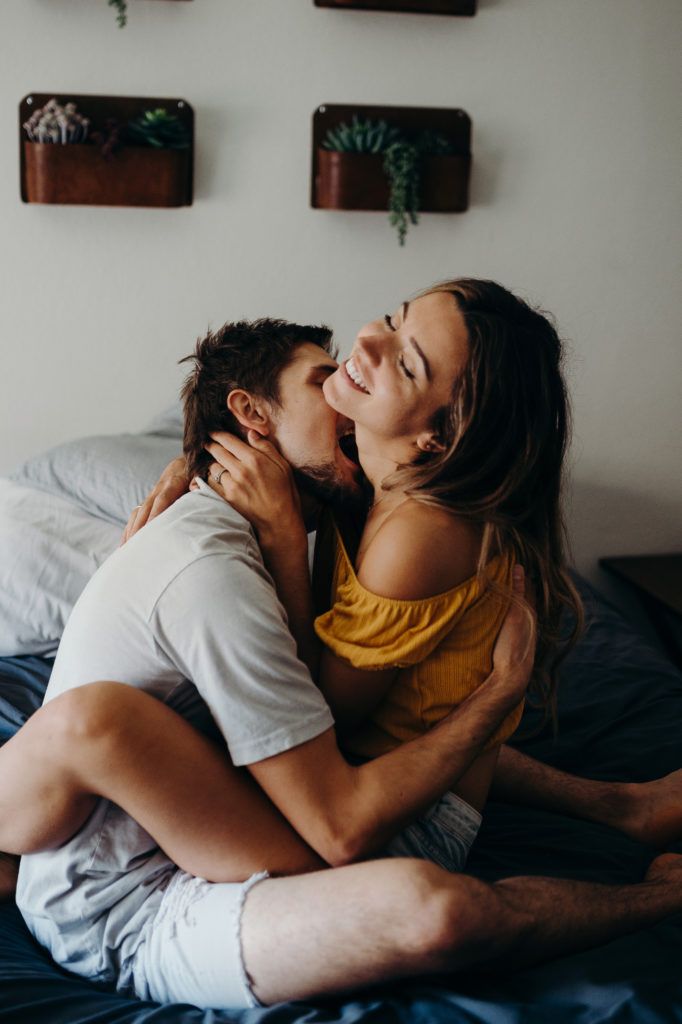 Some people use vibration devices. Like, the effect is not worse. But something tells me that such training can finish much faster than planned...
And if you decide to radically change your sex life, then follow my column and read even more fiery materials:
desires of women, which they are silent about
3. 5 naughty films with hot scenes
4. Boiling Point: Erogenous Zones We Often Forget About
5. Doggy style: How to get the most out of your favorite position
6. How to make your wedding night unforgettable
Yasya
Instructor
Tags:
#sex #family relationships #useful tips #love
Related news
why Kegel exercises are needed and how to do them
We all have big plans for the summer: lose weight, build up our legs and achieve a flat stomach.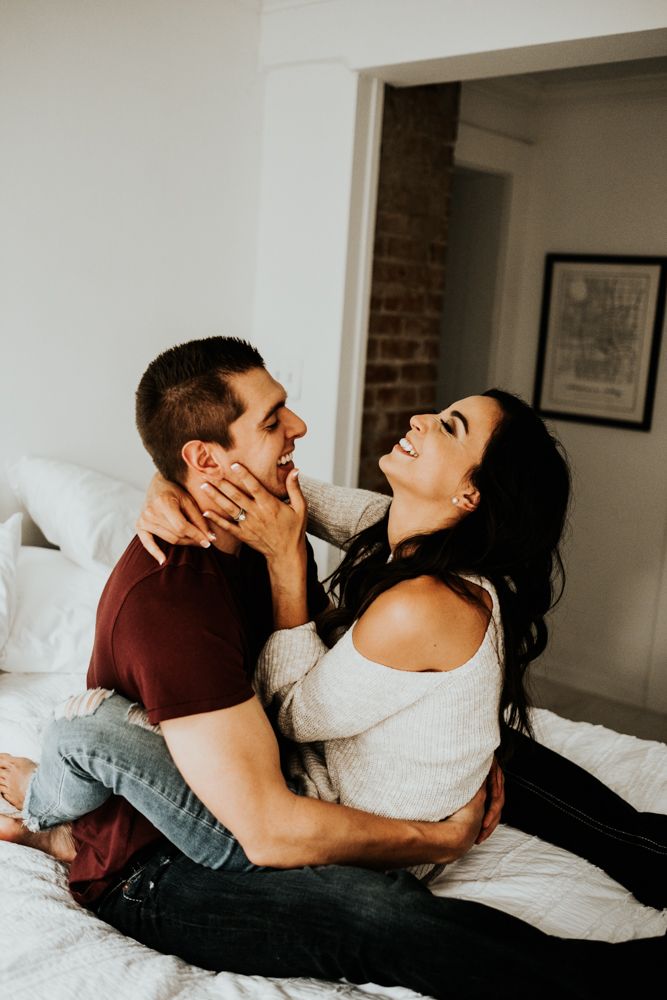 But what we rarely remember is intimate muscles. Not everyone knows that they are useful not only for sexual life. Why do you need to train the muscles of the pelvic floor, says sexologist Valeria Aginskaya.
Anastasia Maksimova
Tags:
Valeria
intimate life
Women Health
Orgasm
The whole truth about...
Depositphotos
His name was Arnold
Intimate muscle training has been popular since the 1950s, when the American surgeon Arnold Kegel introduced pelvic floor exercises to his incontinent patients. After some time, when examining these women, the doctor discovered other "bonuses" from these exercises: his patients reported an increase in sensitivity and that they began to enjoy sexual intercourse.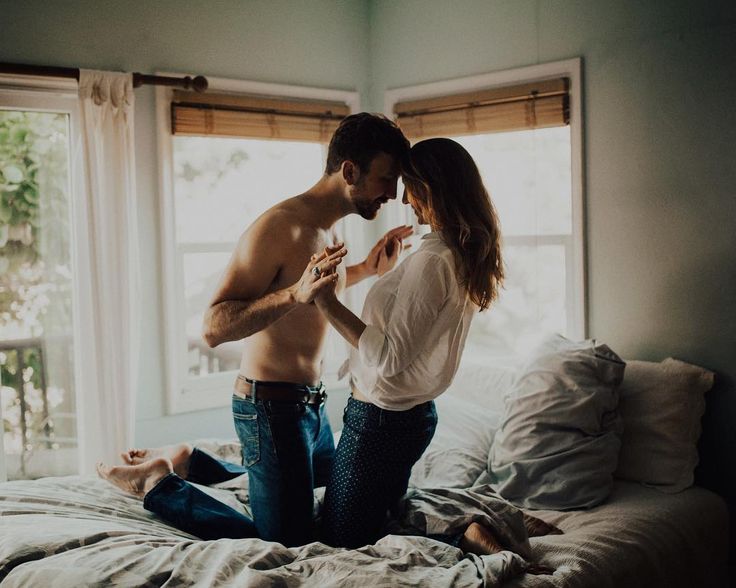 In general, intimate life went uphill. So a surgeon, far from sexology, made a discovery that turned the world upside down for millions of women!
The Kegel method gained worldwide fame much later, 30 years later, when the book of the famous sexologist Bryce Britton "The Way to Sexual Pleasure" was published. In this book, the sexologist gave a scientific rationale for the benefits of this method. It was in this book that for the first time these muscles were called "muscles of love." Britton emphasized that the essence of Kegel exercises is the stimulation of blood flow to the genitals, as a result - a brighter orgasm.
Why
It is believed that Kegel exercises have a positive effect only on the intimate life of women, but in fact this is far from their main advantage. Indeed, pelvic floor muscle training (PFM) stimulates blood flow to the vagina, increases its sensitivity and develops nerve receptors.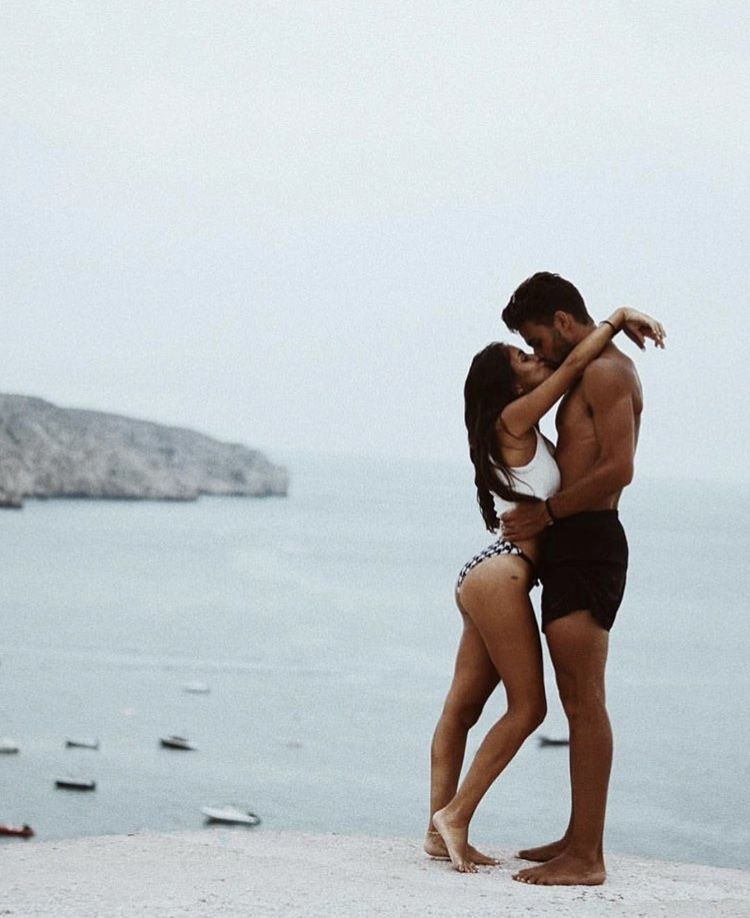 THIS IS INTERESTING
Valeria and other stars who have the status of mothers of many children
Singer Valeria is the mother of three adult children who were born in marriage with producer Alexander Shulgin. But the heirs practically do not communicate with their abusive father. The singer's sons - Artemy and Arseniy - got married one after the other. The wedding of the elder took place in Switzerland, only the closest relatives of the couple were present. The younger celebrated a grandiose event in a big way - all secular Moscow was invited to the celebration (except for father Alexander Shulgin). Valeria's daughter is building a personal brand under the pseudonym SHENA.
1 of 7
The second benefit of these exercises is to help with incontinence. Moreover, both with "urgent incontinence", when you cannot run to the toilet in time, and with the more common "stress incontinence", when droplets of urine are released during coughing or sneezing.
"As a result of MTD training, blood circulation in the pelvic organs is stimulated, cells are supplied with oxygen, peristalsis increases (which solves the problem of constipation), congestion and their undesirable consequences are eliminated: erosions, benign formations, hemorrhoids," emphasizes Valeria Aginskaya. "The development of intimate muscles is an excellent prevention of prolapse of the pelvic organs and urinary incontinence."
Vaginal muscle training plays an important role in preparing for a "soft" and minimally painful birth. It helps to eliminate tears, prolapse of the uterus and the posterior wall of the vagina. Recovery after childbirth is also more successful with intimate training. They quickly restore muscle elasticity and elasticity of the vaginal walls, reduce the vaginal volume, which changes significantly after childbirth.
How to train MTD
There are several basic ways to add even more pleasure to your sex.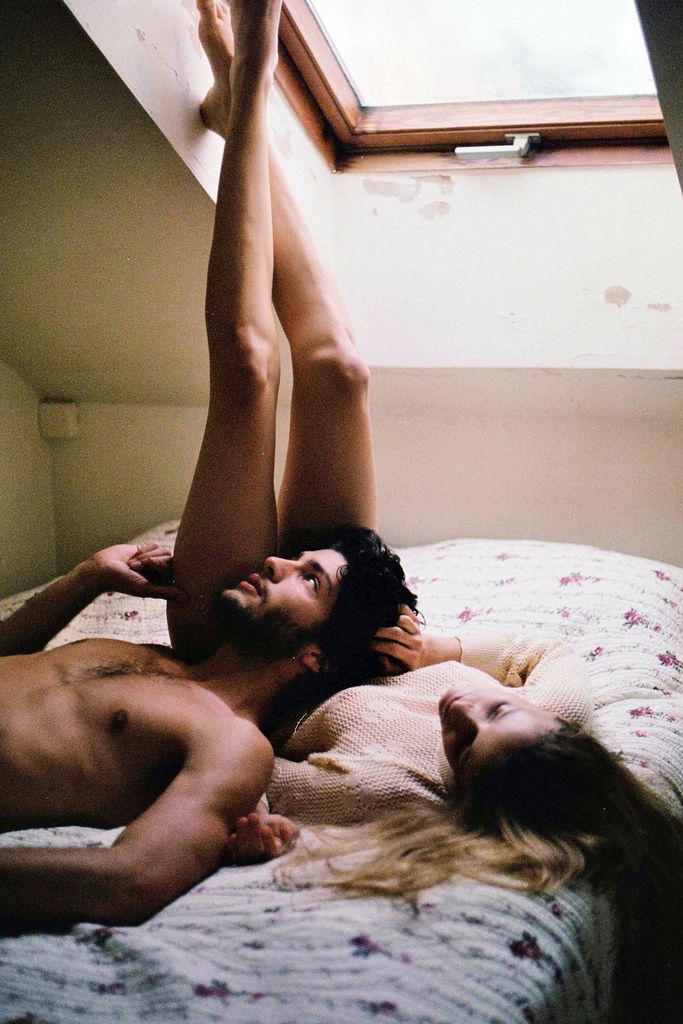 Vaginal balls. Modern doctors recommend using vaginal balls for training, which are sold in sex shops and are available to everyone. They are inexpensive, made of medical grade silicone, and usually come with instructions and a silicone cord for easy removal.
A more advanced and efficient option is the feedback trainer. This is an interactive simulator that syncs with the app and "tells" you when to tighten your muscles and when to relax. This is convenient, because such a simulator independently regulates your load and analyzes how correctly you perform the exercise.
You need to know!
The muscles of the vagina can also be overtrained if you exercise without a program, but simply with the help of weights. As a result, of course, you will get a narrow and strong vagina, with which you can even lift dumbbells, but your sensitivity may drop, as the "overdeveloped" muscles will interfere with the normal functioning of the nerve receptors in the vagina.